Healthcare Reputation Management
The Most Powerful Online Review Builder
Healthcare's first goal-based
online review builder
What's this mean?
With rater8, you have total control over where your reviews get posted, ensuring a polished and balanced online image across all major review platforms. 
Fully automated. You simply have to tell rater8 what your goals are across three areas:
                 -Reviews (how many you want);
                 -Rating (what's your target average rating); and 
                 -Recency (how often do you want reviews).
Once you set these goals, rater8's sophisticated algorithm takes care of the rest.  
Examples: 
Since Google is more prominent than Facebook, perhaps you'd like to prioritize Google and build more reviews there. In this case, you can set the recency for Google to three days and two weeks for Facebook. This means that rater8 will ensure you have a new Google review every 3 days, and it'll make sure your Facebook has new reviews every two weeks. When it comes to local SEO, recency is an important ranking factor and pollin8™ ensures you'll rank higher.
Why is this so important?
Who has time to properly manage every review site listing in your enterprise?  rater8 does the thinking for you.
A 20 doctor, 5 location practice where each doctor sees patients at two office locations will have over 100 online listings to manage.  In the example below, rater8 automatically routes patients to the review sites that need reviews most – like Dr. Steele's Healthgrades listing and Dr. Reynolds's Google and Vitals listings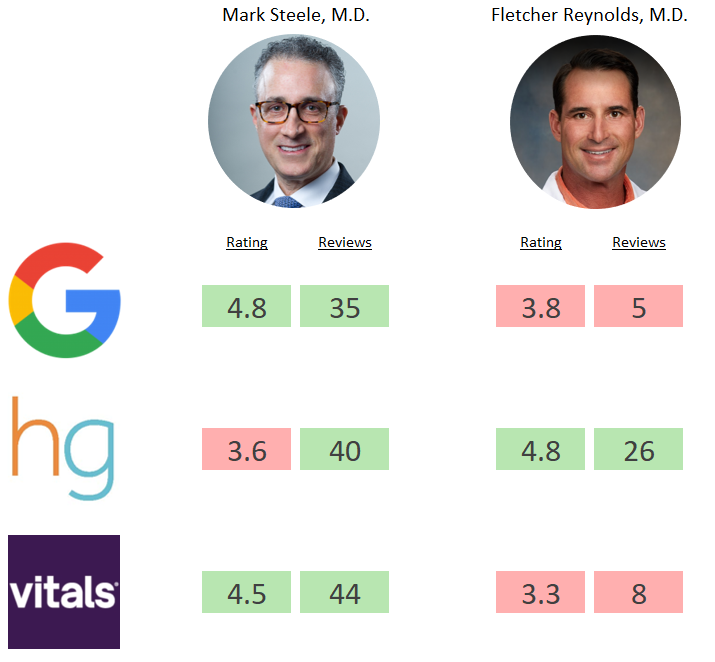 Other review building platforms leave it up to patients to choose the review sites on which they want to leave a review. You likely have separate listings for your office locations and doctors, across multiple platforms like Google, Healthgrades, Vitals, etc. Larger practices have hundreds or thousands of review site listings which makes building online reviews efficiently a challenge, if not impossible. This is why we developed pollin8. Other vendors simply let patients choose where they'll post online reviews. With rater8, you set the goals, and we automatically take care of the rest.
Our team of Google My Business consultants is dedicated to helping you create, claim, and optimize your listings. You can choose to manage these yourself, or our experts will do it for you. Creating and managing your listings can often be a headache. We take this work off your plate, saving you time. Plus, rater8 Google My Business consultants ensure that every listing is done to perfection!
Routine checkups with rater8's account management team to help keep an eye on your ratings and to make sure you're achieving your online reputation, practice improvement, and SEO goals. We provide a full-service package.
Want to See More?
Try Our 30-day Trial