Become the Top-Rated Practice in Your City
Wouldn't it be great if you were the top-rated practice in your city? Your patient volume would explode. Now it's possible with rater8. Become the top-rated practice, without lifting a finger.
Dominate Local Google Search
When patients search for "doctor near me", does your name appear? Or do your local competitors have higher online reviews and ratings? If so, we can fix this. Don't just appear in Google local search – instead, dominate it.
Collect Reviews from Happy Patients
Most of your patients are thrilled with the exceptional care and service you provide. Unfortunately, it's the vocal minority that often posts about the negative experience online. We make it easier for those happy patients to share their thoughts with others.
Patients provide feedback in 3 easy steps!
Upon checkout, patients immediately receive a text or email requesting feedback about their visits. This happens in real-time and automatically, thanks to our
practice management integrations
.  The questions, scored on a scale of 1 to 5 stars, focus on doctors, front desk staff, the check-in process, office, and more.  At rater8, we respect your privacy. Patients can choose to remain anonymous or identify themselves. All patients also have the ability to opt-out of future communications.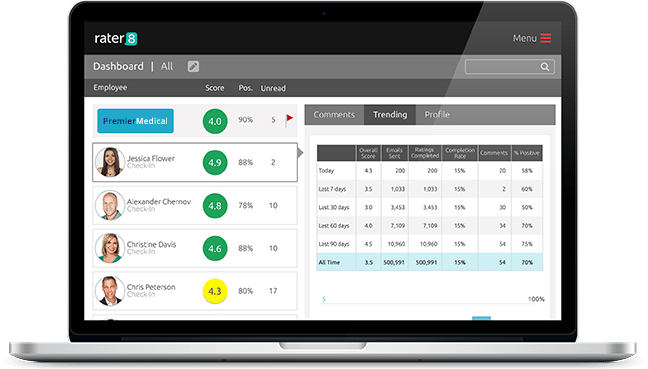 Frequently Asked Questions
rater8 can target Google, Yelp, Healthgrades, Vitals, Facebook, and more. The preferred review platform can be set at the practice and doctor-level.
rater8 can also build online reviews in parallel. For example, administrators can choose to send 50% to Google My Business, 30% to Healthgrades, and 20% to Vitals. These percentages are easily configurable.
With a real-time interface with your practice management system, the moment the patient leaves your office, we send our RateMe email to the patient so that when they get to their car in the parking lot, they would already have the email on their mobile devices. The delay between checkout and receiving an email can be set in the software.
Administrators can also configure the time between messages. For example, if a patient visits the doctor twice in one week, practices may not want to send the patient two satisfaction surveys. This is configurable within the software.
We integrate with the leading practice management systems. Check out our integrations page to see some examples. If your practice management system isn't on the list, we'll add it! Speak to our solutions consultant to get started.