Healthcare's Most Powerful
Online Review Builder
Stand Out Online From the Competition
Stand Out Online From the Competition
With hundreds (or thousands) of 5-star reviews, you'll outshine the competition on Google and local search. When prospective patients are searching for a new provider, they'll want to choose you over your competitor, increasing your patient volume.
Healthcare's Only Goal-Based Review Builder
Healthcare's Only Goal-Based Review Builder
To build a perfect online image, simply tell rater8 what your goals and targets are across three areas.
Once you set these goals, rater8's intelligent algorithm takes care of the rest to create a perfect online image…every time.
Healthcare practices lack the time, resources, and technology to effectively manage every single review listing. 
For example, a 20-doctor, 5-location practice where each doctor sees patients at 2 office locations will have over 100 different online listings to manage and monitor. 
Thanks to pollin8, rater8 automatically routes patients to the review sites that need reviews most.
Other review building platforms leave it up to patients to choose the review sites. But with hundreds of listings, building online reviews efficiently and equitably is a challenge, if not impossible.
This is why we developed pollin8. With rater8, you set the goals, and we automatically take care of the rest, redirecting patients to where you need reviews the most. This ensures a polished and balanced online image.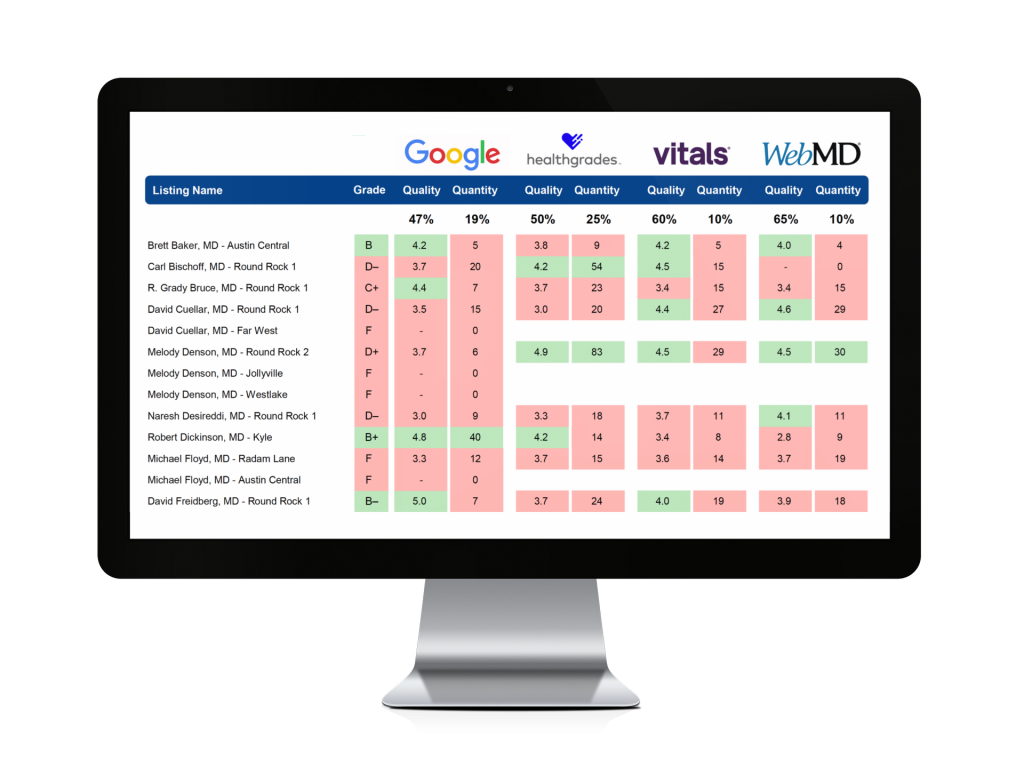 When Princeton Orthopaedic Associates (POA) first partnered with rater8 in 2019, they had 55 reviews and an overall rating of 3.3 stars across 5 locations. After just one month of focusing rater8's automated review-building technology on their location listings, POA accumulated over 200 new reviews and grew their overall rating to 4.6 stars.
After a few more months of focusing only on their location reviews, POA began allocating a portion of patients to leave reviews on their doctors' listings across Google, Healthgrades, Vitals, and the practice's Facebook page. All they had to do was set their review and rating goals across these review sites, and rater8's pollin8™ feature took care of the rest.
Read more about POA's successful partnership with rater8 on their case study page.
Want to see how you appear

online?
Our team will put together a detailed online reviews analysis for your practice, analyzing your presence across Google, Healthgrades, Vitals, and WebMD.