So, someone else owns your Google Business Profile (GBP) listing. Fear not! We've put together this step-by-step guide to help you claim, verify, edit, and even build listings from the ground up.
How to Create a Listing From Scratch
1. To create a brand-new listing via your GBP Dashboard, select "Add location" and then select "Add a single location" from the dropdown menu.
2. Enter the new listing's name, address info, category, phone number, and website URL. Then select "Finish and verify this business."
3. The new listing should now populate on your GBP Manager. Be sure to edit the listing to the fullest extent before verifying.
How to Claim a Pre-existing Listing
Before claiming a listing, check whether it's already been claimed. To determine this, you can either inspect the listing's Google search view, or you can review your rater8 Google Business Profile Scorecard.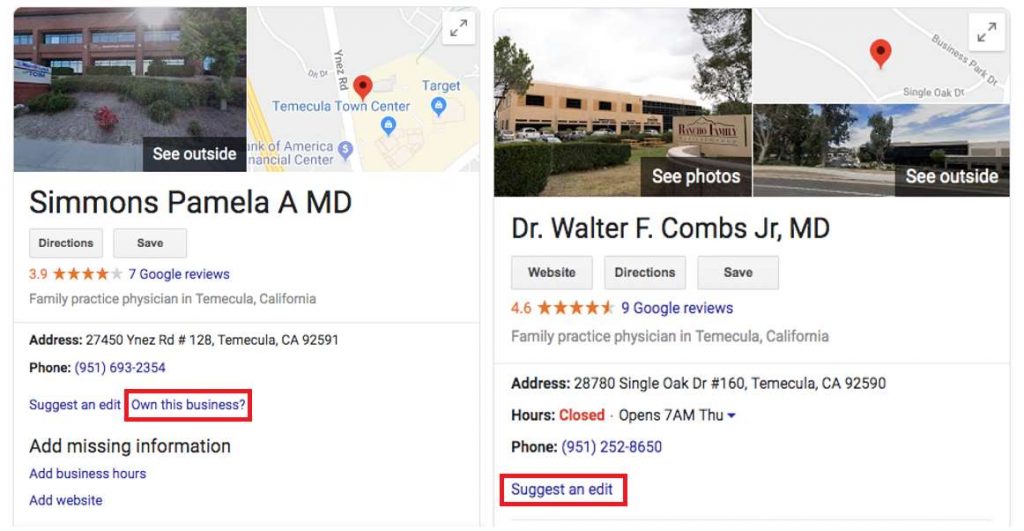 In the above listings, the one on the left features an "Own this business?" link, whereas the one on the right does not. Any listing that displays "Own this business?" is typically unclaimed, and you can immediately access and edit the listing on your GBP Manager once you have claimed it. Any listing that does not display "Own this business?" is claimed by another Google user, and you must request access and ultimately verify the listing.
Request access to an unclaimed listing:
1. Copy the listing's name to your clipboard.
2. Navigate to Google Business Profile Manager.
3. Paste the name of the listing into the search field. Select the listing when it populates in the dropdown menu.
4. Select the option to "Manage now," and the listing will populate in your GBP Dashboard.
Note: You want to avoid being denied access from a listing at all costs. You can try appealing the denial or suggesting an edit directly on the listing, but you will not be able to gain access to the listing swiftly or effectively.
Request access to an already claimed listing:
1. Copy the listing's name to your clipboard.
2. On your GBP Dashboard, select "Add location," then select "Add single location." This will take you to the Google Business Profile Manager.
3. Paste the name of the listing into the search field. Select the listing when it populates in the dropdown menu.
4. Google will let you know the listing has already been claimed. It will display a partially hidden email address (e.g., ab…@…..). You will want to investigate whether or not you may know the identity of the owner. If you are unable to identify or get in touch with the owner, they may reject your request and keep you from ever being able to gain ownership. If you are able to identify the owner, reach out to them immediately to let them know you will be requesting ownership of the listing. Once you've cleared the request for access with the owner, go ahead and select "Request access."
5. Fill out the form to request ownership access.
6. If the owner of the listing does not respond to your request after seven days, you will be able to re-complete the above steps to attempt to gain ownership of the listing.
Verification via postcard:
Postcard verification is the most common way to verify a listing. Google will mail you a postcard featuring a verification code.
Sign into GBP, select the listing you would like to verify, and then select "Verify now."
On the postcard request screen, ensure your business address is correct. If it isn't, edit the address before requesting a postcard. When you're certain the address is accurate, select "Send postcard."
While awaiting your postcard, do not edit your listing or request a new code. This can delay the verification process. You must wait 14 days from the date the postcard is sent before Google can escalate the issue.
Once you receive your postcard, enter the five-digit code into GBP and select "Submit."
Note: Postcards typically arrive in 5-10 days but may take up to 4 weeks. Postcards can only be re-sent up to 5 times. To have a postcard re-sent, select the applicable listing. Then, under the "Info" tab, select "I don't have a code." From there, you can choose to have another postcard mailed or change the method of verification.
Sometimes Google allows for email verification. It provides the option to enter the username of an email domain that corresponds to the practice or to the listing. Unfortunately, if the email domain Google provides is incorrect, you cannot change it to the appropriate domain. In that case, utilize postcard verification instead.
You will likely only encounter the two verifications listed above (postcard and email). However, in some cases, you can request special verification options by submitting a Google Support ticket.
These are some additional forms of GBP verification you could encounter, including phone, photo, and video.
If phone verification is offered, Google will automatically use the phone number that was originally added to the listing. You cannot verify the practice using a phone number different from the one listed.
In this scenario, Google will call the phone listed and, upon answering, the pre-recorded code will automatically begin to play. It is crucial that the number listed is answered by a live person, as Google will not know whether it is speaking to a live person versus a phone system.
A great way to combat this issue is by contacting your phone vendor to see if they can set up a rule/macro that enables all calls from Google's verification phone number to be forwarded to a live person, allowing someone to get the code over the phone. Alternatively, calls originating from this number can be routed to another designated number such as the client's direct line or cell.
Google's verification service always calls from the following phone number: (202) 455-8888.
Photo verification is typically only available after all other methods have been exhausted, such as if you have unsuccessfully been mailed several postcards.
If you have run out of verification options, then you will need to contact Google Support. They will ask for a set of specific photos of the practice's listing in reference. For instance, 3-5 unedited photos of:
The practice's storefront as seen from the street and/or in front of your practice

Signage showing the name of the practice and its entrance

The inside of the practice, as a practice sees when entering

If available, a link showing Google Street View imagery of the street and/or neighborhood in which your practice is located

If applicable, the name and website URL of the venue in which your practice resides (e.g., shopping mall)
If any of the above formats aren't possible for your practice, provide the best photographic proof possible of the practice's surroundings and how a patient can find it.
If Google still does not find this response satisfactory, you will be asked to pursue video verification.
If you have exhausted all your verification options, submit a Google Support ticket requesting video verification. Google will provide their availability for a call and instructions on how to prepare.
For example, Google will prompt you with something like:
"Please download/install the Meet application on your mobile or any other device that you would use for video calls."
Once on the video call, these are the proofs you are required to show:
Practice name and address (there should be signage at the entrance)
There should be an onsite office for your practice, where patients walk in
Business card
Tools and equipment
Workspace
The employee performing the call should be personnel authorized to manage the practice information.
If the video is satisfactory to the Google representative, they will verify the listing within 24-48 business hours.
All listing edits can be made under the "Info" tab in the left-hand column once you select the listing. Below are all of the edits that can be made to a listing, as ordered from top to bottom in your GBP Manager. Any section in bold is always addressed in rater8-optimized GBP listings. All other sections are either unsuitable for medical practices or are trivial to SEO.
Name/Business Title – Names identical to the practice website.
Category – You can feature one primary and many secondary categories chosen from a dropdown list created by Google.
Address
Service Area – For delivery radii.
Hours
Special Hours – For holidays.
Phone Number – You can add many phone numbers, e.g., a toll-free 800 number in addition to direct office location numbers.
Short Name – You can no longer create or edit short names. Those that already exist should still work.
URLs – Website and appointment links.
Services – For a service menu with fixed prices.
Products – See above.
Accessibility – You can add practitioner gender, wheelchair accessibility, and business highlights like LGBT-friendly, women-led, unisex restroom, etc.
Business Description
Opening Date – When your business was established, e.g., est.1980.
Photos – Cover photo and logo.
Note: To avoid glitches and maintain consistency, we recommend limiting category, phone number, and photo entries to one option for each listing.
Of note for the bolded items:
Office Listings: Use the full practice name.
Provider Listings: A doctor's name should be formatted First M. Last, MD and mirror whatever is displayed on the practice website. Some doctors may have no middle initial, and some doctors choose to initial their first name instead, e.g., F. Middle Last, MD. Be sure to check whether the doctor is an MD, DO, DPM, etc.
Office Listings: Instead of using "orthopedic clinic," opt for the majority of your doctors' specialties, such as "orthopedic surgeon" or "family practice physician."
Provider Listings: Use the category that best represents what the provider specializes in (e.g., orthopedic surgeon). Common alternative categories we've encountered include: pain management physician, anesthesiologist, sports medicine physician, and physiatrist. Be sure to check the list of GBP categories to find the appropriate category for the doctor.
Addresses must be exact copies of how they are formatted on the practice's website. Designations like street (St.), drive (Dr.), court (Ct.), highway (Hwy.), parkway (Pkwy.), and suite (Ste.) must appear exactly as they are on the practice's website, down to the punctuation.
Some practices may provide office hours that differ from phone hours. It is best to list phone hours on GBP listings.
If there is a toll-free number for the practice, list it as secondary and keep the direct office number as the primary phone number.
A website link should go directly the practice website's homepage. An appointment link should go to a "request appointment" page, "contact us" page, or online appointment-scheduling resource.
The business description should be composed from the text on the practice's website that best defines the practice or provider.
It is best to upload the same photo for both "logo" and "cover." Photos should be high quality with 1:1 (square) dimensions.
Google Photo Guidelines:
Resolution: Minimum of 250px by 250px. Recommendation of 720px x 720px.
File Format: PNG or JPG.
Size: Between 10KB and 5MB.
The "cover" photo is the one that appears on the GBP listing on Google search results. "Logo" is for the small icon that appears beside your username when you respond to reviews or answer questions on your listing. Any additional photos uploaded to a listing will appear once you click on the listing's cover photo and begin to scroll through.
Office Listings: An external building photo is preferred; however, a logo or group photo can also be used if necessary.
Provider Listings: A professional headshot is ideal.
Removing Unwanted Photos: Under the listing on your GBP Manager, select the photo you want to removed, and check the upper right-hand corner for a trash icon. Select the trash icon to delete the photo from the listing.
Reporting Unwanted Photos: Select the unwanted photo and check the upper right-hand corner. If there is a flag icon instead of a trash icon, the photo was uploaded by another Google user and cannot be deleted right away. Select the flag icon to report the photo. If the photo is still displayed on the listing, contact GBP Help and ask for the unwanted photos to be removed.
Desired Photo Not Appearing: A provider's photo should show up on the GBP page when it is loaded to the Profile and Cover pages. Sometimes a Google Rep will tell you that Google is an open platform and they cannot guarantee the photo will show up. This is incorrect and reflects an inexperienced rep. Google can escalate the issue and have the photos appear on the listing.
You're All Set to Claim & Optimize!
Creating a GBP listing from scratch can be a hassle, let alone claiming, verifying, and editing one. If this guide didn't have the answer to all your questions, check out our abundance of GPB resources here on the blog! Better yet, try rater8 free for 30 days and learn how we can optimize ALL of your GBP listings for you. That's right — you'll never have to edit another listing yourself. Dream come true? We think so!