So, you're running low on social media content ideas for your medical practice, eh? No judgment here! In fact, that's to be expected. To grow and maintain a social media following, practices must post multiple times every week on at least one or two platforms. Naturally, the well of ideas dries up quickly.
rater8 works closely with thousands of physicians and medical practices across the country, helping them improve their online reputations. Social media is a major piece of the online reputation management puzzle! We've learned a thing or two about what content works best to gain followers, promote patient engagement, and ultimately drive new patients to your practice website. Read on for our top eight social media content ideas for doctors that will get those creative gears turning again.
Top 8 Social Media Content Ideas for Doctors
1. Social Proof: Patient testimonials and stories, including before-and-after photos.
"Social proof" refers to the influence that the attitudes and actions of the people around us have on our own behavior. When it comes to using social proof to boost trust in your practice, it doesn't get much better than patient testimonials. A webpage pop-up ad for a new restaurant is unlikely to compel you to eat there. However, if a close friend told you they enjoyed the new restaurant, you'd undoubtedly feel more inclined to try it.
Healthcare works the same way. When people search for providers online, they look for an abundance of positive reviews. You're certainly on the road to success if you have many 5-star reviews, but don't let them just sit there! Use them in branded social media posts for "testimonial Tuesdays." If a 5-star review mentions a specific doctor, share it alongside a photo of the doctor. These ideas only scratch the surface. In fact, patient testimonials are so impactful as social proof, we already published a blog post about the different ways doctors can use testimonials as social media content.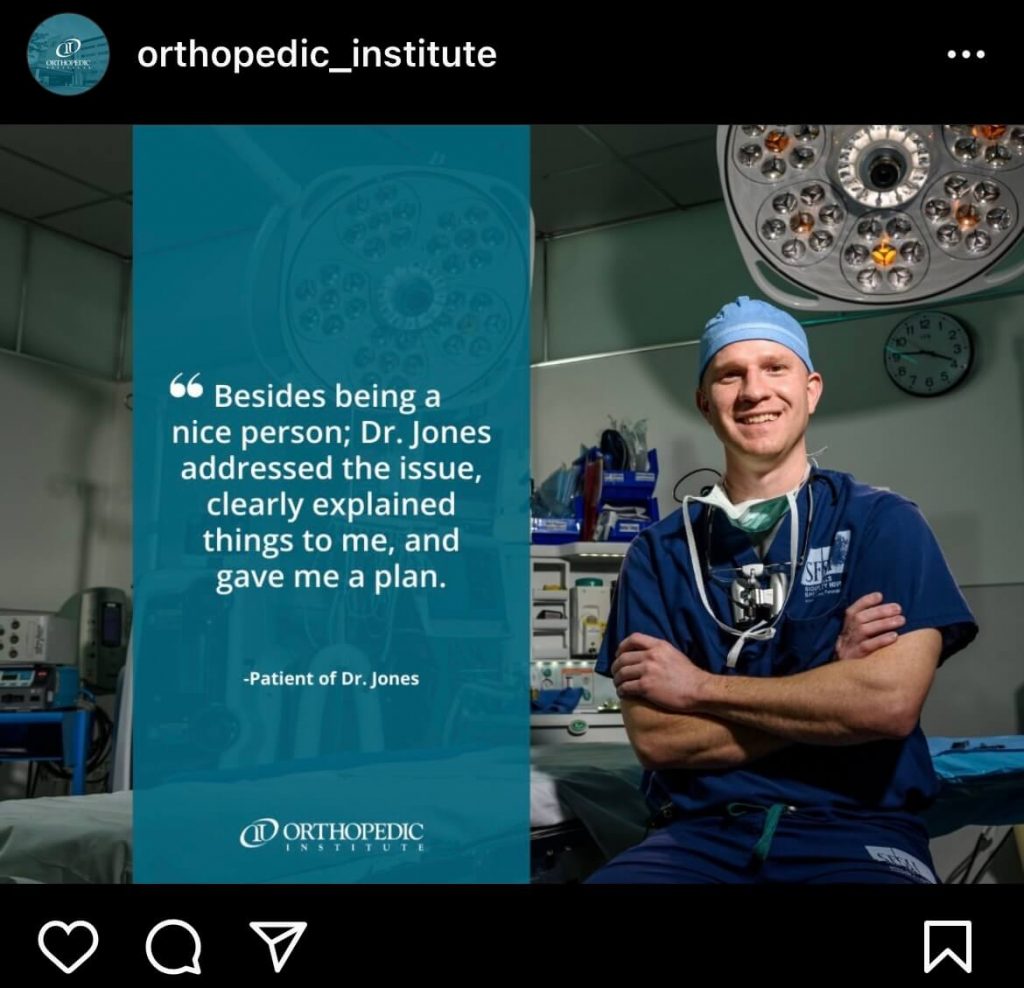 Patient stories can be just as powerful as testimonials and reviews. With permission, and while bearing HIPAA in mind, you can work with patients to craft the story of the positive experience they had at your practice. While online reviews are often anonymous, patient stories are more personal, offering an inside look into procedures and treatments. This can help alleviate fears or doubts others may have about undergoing a procedure.
For specialties like dermatology and cosmetic surgery, before-and-after photos make patient stories more effective. Similarly, an orthopedic practice might share a video of a patient's range of motion before and after undergoing a procedure and physical therapy. Prospective patients want to see results, so give them the peace of mind they seek.
2. Practice and employee awards, accolades, and stories.
We know your amazing practice and employees are winning awards left and right, so show them off! Awards, accolades, and publications are all great reasons to shine a social media spotlight on your medical practice. This isn't the time to keep things short and sweet—people love a good success story! Did your practice start out small, struggling with patient acquisition, to eventually become the favorite practice in town after years of hard work? Perhaps you met or exceeded tough parameters or beat out some top-notch competitors. Or maybe you offered the best patient experience in the state! Whatever the reason, you've earned the right to boast about your success, and that shiny trophy is sure to draw attention.
3. New doctor introductions and retirement announcements.
Patients want to get a sense of who their doctor is before ever setting foot in their office. While physician biographies on your practice's website are helpful, they often aren't personable, sticking strictly to qualifications and experience. Introducing your team of physicians and any new doctors on social media allows them to share more about themselves. They can talk about their decision to become a doctor, why they chose to practice with your medical group, and even their hobbies and interests outside of the white coat and stethoscope. Be sure to include photos! A high-quality headshot will go a long way with patients.
You can honor retiring doctors in a similar way. Not only is this an opportunity for everyone at your practice to show their gratitude, but patients will also be able to contribute their appreciation. Before you know it, you'll have a comment section flooded with fond memories, stories, and well wishes.
Will the front desk be understaffed due to the summer vacation season? Will your practice's hours be different due to an upcoming holiday? Let your social media following know! Sharing important operational updates may seem boring, but they don't have to be. A wall of black and white text is snooze-worthy. A doctor performing a goofy TikTok dance while announcing special operating hours is much more fun.
Whatever form they ultimately take, when you have timely operational updates to share, we recommend posting the information to your Facebook Stories and/or Instagram Stories in addition to posting it on your social feed. While Stories don't reach as many new audiences as feed posts, you aren't aiming to reach new followers when sharing operational updates. You're trying to let your current patients know about a sudden or upcoming change to foster continued trust and avoid frustration. When your followers see your new Story appear at the top of their screens, they'll know you have something timely to say. After all, Stories only stick around for 24 hours.
Free Download!
rater8's Healthcare Marketing Guide
Learn about search engine optimization, pay-per-click, email campaigns, and more.
Download Now
5. Behind-the-scenes images of your facility and photos of your team, especially on special occasions.
Where does blood go after it's drawn? What equipment is used to run all those fancy-sounding tests? While it's a no-brainer that you should be sharing photos of your facility on social media, most people don't know what it's really like behind the scenes at a medical practice. And who doesn't love taking a look behind the curtain?
We all know doctors aren't the only people who make a practice great. Dozens of people in different roles put in the work to keep your patients happy and your practice running smoothly. Show off your staff on social media! If you're already posting about doctors, add your staff into the mix with a monthly "employee spotlight."
If your practice goes all out when decorating for the holidays, or if your team dresses up for Halloween, post it! Visiting a doctor's office tends to be construed as a serious, professional, sometimes unpleasant or even scary experience. Remind your patients that your team likes to have fun, too!
6. Health news and education.
"Health news" is broad, and you can run as far as you'd like with it. If you opt to keep it specific to your practice, you can announce new procedures, methods, and equipment. Your waiting room renovation or the grand opening of your new location are also newsworthy. After all, you're a healthcare facility, so why shouldn't the fun stuff count as health news?
Your patients already selected you to care for their health, so they also trust you to educate them, both in and out of the exam room. Share timely information, such as flu statistics during flu season, or the proper use of sunscreen as summertime approaches. Use Facebook and LinkedIn to share articles and papers specific to your practice's specialty, procedures, and treatments. Bonus points if a physician at your practice authored the paper!
No matter the topic, most people don't actually like the "search" part of doing research. Sure, you're already doing your followers a service by handing the research right to them. But remember that not everyone is willing to dedicate hours to deciphering a scientific paper. To ensure your followers will read and share important health information, break it down for them. If your medical practice maintains a blog, write a post about the information in plain language. Sharing a link to the post will allow people to land directly on your website. Alternatively, create a branded social media post featuring main points and takeaways. People are much more likely to share a few bullet points that are easy to comprehend than they are to share a link to a convoluted abstract on PubMed, especially if the full paper is behind a paywall.
7. Community engagement and events.
Are you really a medical practice if you've never sponsored a local Little League team? Kidding! But seriously, if your practice is brand-new, or even if you're an old face trying to gain a little more brand recognition in town, try sponsoring a local team or event. Your logo is bound to catch attention when it's up on a gymnasium wall, plastered on a uniform, or waving wildly on a flag. Even if you don't see an immediate return on investment, you can take pride in knowing you made a positive contribution to your community. The event coordinators or team you sponsored certainly won't forget it.
Holding your own event rather than sponsoring someone else's is more time intensive, but can be even more rewarding! When you host an event, all of the attention is on you and your practice. Consider the audience you want to attract, and build a theme from there. For example, if you're a pediatric ophthalmology practice, you could host an art show for kids. Additionally, while you may want to show off your facilities, a different venue is likely more ideal for a messy art show or a dance for seniors.
Yes, we know you can't give away laser eye surgery or a hip replacement. But giveaways don't have to be specific to your specialty, or even to healthcare. Sure, dermatologists might want to offer their sponsored facial cleanser in a giveaway, but has anyone ever said no to a $50 gift card to a local restaurant?
Don't make your giveaways too easy! When you post a giveaway on social media, enforce entry requirements. Common requirements include any combination of the following:
Must be following the account

Must like the post

Must tag a certain number of people (usually three to five) in the comments

Must share or retweet the post to their own Facebook or Twitter feed

Must share the post to their own Instagram Story or Facebook Story
This requires people to follow your account and draw the attention of others to the post via tagging or sharing. After all, the point of giveaways is to gain notice, reach new audiences, and expand your following. Even if people unfollow you once the giveaway is over, you still gained brand recognition.
When undertaking a social media giveaway, keep all the giveaway information in one post. The post should grab the attention of your followers as they scroll their feed, and it should be easy for newcomers to find in your profile. Use Stories to post daily reminders about the giveaway and direct followers to the appropriate post so they can enter. You can even create a countdown clock in your Stories so they'll know when to check back to see who won. When you have your winner, edit the giveaway post caption to note the winner's name and let people know the giveaway is closed.
The best thing about these social media content ideas for doctors is that many of them can be repeated without getting boring. For example, new doctors are always new, holidays come around multiple times each year, and if you use rater8, you probably have testimonial-grade reviews rolling in every day. Plus, these repeatable ideas are made even easier when you design reusable social media templates using websites like Canva. 
Is your creative battery recharged yet? You have our top eight ideas—now go make that content!
Rank 1st in your local searches!
Everything You Should Know About Healthcare Google Business Profiles
Read Now