With today's rapid shift in the patient pathway to obtaining healthcare, it feels like eons since people went to their primary care physicians for referral to a specialist. The reality is that online resources are swiftly impacting the way patients seek out and select providers. With the internet prompting a rapid evolution in patient acquisition from word of mouth to the digital scene, the search for providers has become reminiscent of online shopping.
With a winning marketing strategy, practices can adapt to healthcare's changing digital landscape and evolve alongside healthcare consumerism to drive patient acquisition going forward. Read on to learn where practices tend to fall short as patient expectations shift, and what digital patient acquisition strategies practices can implement to avoid or address these shortcomings.
Where Medical Practices Fall Short
Many medical practices fall short when they fail to define their patient journey. This is the process that a patient goes through, from first realizing they have a healthcare need, to searching for providers, and finally completing treatment or follow-up care. This allows you to meet (and hopefully exceed) patient expectations, from their initial contact with you, to entering your waiting room for the first time, to undergoing care and treatment. Strengthening your patient experience not only improves patient retention, but can turn your current patients into advocates who refer your practice to others.
The first step in the process is to define who your ideal patients are and determine what characteristics they have in common. Involve your team in the discussion. As a result of this conversation, the entire team should have a clear picture of your ideal patient. Then you can begin developing your preferred strategies.
Patient Acquisition Starts in the Search Bar
The moment a patient searches online for a medical service or provider, your medical practice begins to make its first impression. People expect to be able to find what they need online immediately. That first impression may be the difference between an appointment scheduled and a missed opportunity.
Whether potential patients are looking for information, directions, or hours, your medical practice needs to be at the top of the search results to be easily found on mobile devices. A 2020 Doctor.com survey found that patients now rely on online resources nearly 2x more than they do referrals. However, being at the top of search results won't help if you have poor ratings across Google and other top healthcare review sites. This is because patients are increasingly exhibiting "shopping" behaviors, with nearly half of all patients consulting multiple third-party sites to make a healthcare decision. Doctor.com also revealed that patients are consulting an average of 2.6 sources in their decision-making process. If you have negative reviews, patients are certain to "shop" elsewhere.
Improving the number, quality, and timeliness of your online reviews is increasingly important. Unsatisfied patients are far more likely to take the initiative to leave a negative review than happy patients are to leave a positive one. The best way to combat the skew of negative reviews is to request reviews from all patients. rater8 automates this process, sending text or email review requests to patients as soon as they check out after an appointment. Better yet, our algorithm, pollin8™, allows us to redirect patients to the sites where your practice needs a review the most. If you're thinking that your practice would just get more negative reviews, think again! We've found that when you request reviews from all patients, 97% of them will be 4 or 5 stars.
Make it Easy to Take Action
It's not enough to just have a website. It's important for you to have a strong, user-friendly website so visitors can easily find what they're looking for. Do potential patients have to call to find out what insurance you accept, or does your website clearly state that information? Does your website explain what your practice does differently from your competitors? If you're a large practice, is your website organized by specialty and subspecialty? No one wants to click through dozens of orthopedic provider pages trying to find a shoulder specialist. Pinnacle Orthopaedics' website doesn't just organize their providers by specialty—they take it a step further, getting directly to the point and asking visitors "What Hurts?" on their homepage, pictured below. Selecting the trouble area (e.g., neck, back, shoulder) allows visitors to immediately view the appropriate physicians.
Perhaps most importantly, do you offer online scheduling? If so, is your "Book Appointment" button easy to find? In fact, 60% of patients say ease of booking is key to a 5-star review (Doctor.com). It's crucial to consider these questions as you reflect on your online presence.
Digital Patient Acquisition Strategies
Patient acquisition strategies are designed to increase brand awareness, drive traffic, and convert users into patients. While patient acquisition can be achieved through multiple channels, some of the primary ones are:
Search engine optimization (SEO)

Paid search advertising

Display ads

Social media

Email marketing
Search Engine Optimization
Search engine optimization, or SEO, is an area where medical practices tend to fall short. When it comes to winning organic search, SEO is critical! SEO is the process of improving your website to increase its visibility when people search for keywords related to your practice. Did you know that 90% of all internet searches occur on Google? For that reason, your Google Business Profile (formerly known as Google My Business) is extremely important; it makes you and your medical practice discoverable online so more patients can find you. Optimizing your profile is vital, so here are a few ways you can achieve a top-notch profile:
Claim your listing

List a consistent name, address, and phone number (NAP)

Add photos

and videos

Add a compelling business description

Select categories

Add hours

Add your practice's website URL

Consider your practice's:

Star-ratings

Number of reviews

Recency of reviews
Those last three points are especially critical, as Google's algorithm factors reviews, ratings, and recency into deciding which listings to promote. Having five stars is great, but if you have only three reviews from eight months ago, not only is that a little fishy, but Google might overlook your practice's listing in favor of another with a greater number of more recent reviews. It's one thing if patients see your listing and decide not to select your practice for their healthcare needs, but it's another thing altogether if they never see your listing at all! Once again, your reputation matters.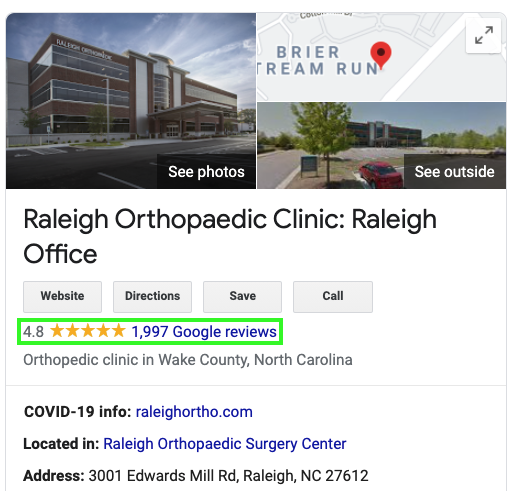 For more information on optimizing your location and provider profiles, check out our comprehensive guide on taking control of your Google Business Profile. Additionally, despite the plentiful resources available to help with your Google profiles, managing them can be time-consuming and tedious, particularly for hospitals and larger medical practices. rater8 consultants are experts in Google Business Profiles, and we offer listings optimization services to our clients.
There are a variety of paid ads you can try out, but we'll focus on the two most popular options. First, there is paid search advertising, in which practices pay search engines to place their ads higher on relevant search engine results pages (SERPs) with the goal of driving traffic to their site. Pay-per-click (PPC) is the most common form of paid search advertising. Using a PPC campaign means practices don't pay anything until a potential patient clicks on their ad.
As a provider, you have access to a variety of data that can help you personalize the experience for your patients. For example, you can create targeted ad campaigns based on patient demographics. If you own an orthopedic surgery clinic in Georgia and your ideal patient is located in the Atlanta area, you can create a paid search ad or display ad targeting users:
Within X miles of Atlanta,

Who fall between the ages of X and Y,

And are likely experiencing joint pain based on their online activity.
Because you can target your audience, this makes PPC an affordable way to advertise and ensures your ads reach users who are actively searching for what you offer—and what you offer should be evident. When you take the time to curate the perfect audience for your practice, you must also invest time into creating ads that will speak to them.
Then there are display ads, which are visually engaging ads that encourage the potential patient to click-through and take action (i.e., book an appointment). These ads can be primarily text-based, an image, or a video. Display ads are known for their effectiveness and wide reach, appearing at the top, sides, and middle of nearly all websites. Pictured below are several healthcare display ad examples in a variety of shapes and sizes; in fact, Google allows for more than a dozen sizes!
Social media is an excellent tool to expand your practice's reach to more patients. Build and strengthen relationships with existing patients while also creating new interest in your practice. If your practice is new to the social media scene, or if you're looking to adjust your strategy, we have an abundance of resources to set you on the right path. Not only do we have a full article on choosing the right social media platforms for your practice, we also share some popular content ideas to get you started! Additionally, we offer a free social media templates package that includes a content calendar template and summarizes the aforementioned articles.
Stepping back into paid advertising for a moment, you can also take advantage of Facebook ads, which appear on Facebook, Instagram, and Messenger. Choose your objective (i.e., book appointments), select your audience, set a daily or lifetime budget for your ad campaign, and then track and edit your campaign in Facebook's Ad Manager. We highly recommend using Facebook's retargeting ads feature, which allows you to target users who have previously visited your website. When someone has already engaged with your practice, they're more likely to come back for another look—and perhaps even book an appointment.
rater8 is the gift that keeps on giving when it comes to social media resources and services. If you're considering us for your healthcare reputation management needs, keep in mind that we also offer rater8 Social. Nothing grabs social media users' attention like patient testimonials, the ultimate form of social proof. When those 5-star reviews start pouring in, rater8 automatically prioritizes the best ones for publication to your practice's Facebook page at a configurable cadence. This ensures your practice is posting regular new content with no effort required.
Email is one of the most efficient and cost-effective ways to connect with current and future patients. So long as you're complying with HIPAA regulations, you can (and should!) email current and prospective patients. Send appointment reminders to current patients, testimonials to prospective patients, and promotions and educational articles to both groups.
Place segmentation at the top of your priority list. Segment your email campaigns across demographics like age, gender, and location to target specific groups of people. For example, if your practice is located in Raleigh, North Carolina, and specializes in pediatrics, you'll want to target adults who live in the Raleigh area and are of child-rearing age. Segmented campaigns are shown to perform better than non-segmented ones, as recipients will be more likely to engage with your email.
No digital marketing strategy is perfect right out of the gate. It takes time and effort to develop and implement a strategy, and then it requires evaluation over time to assess whether it's working as intended.
Most platforms provide an abundance of data; while helpful, it can sometimes feel overwhelming. We recommend selecting a few metrics that directly relate back to the goals of your strategy. Focus on those consistently! Your team should review the analytics for each goal on a recurring basis. These data indicate the effectiveness of your patient acquisition efforts. In addition, having this information allows you and your team to make informed decisions about where to focus efforts and how to properly allocate your budget going forward.
Key Performance Indicators
Key performance indicators (KPIs) are quantifiable measurements of performance over time for a specific marketing goal. Tracking KPIs for your practice's website, social media platforms, and email is vital for their improvement.
Website traffic

New vs. returning users

Mobile usage

Pages per session

Scroll depth

Bounce rate

Website speed
Google Analytics is the most widely used web analytics tool on the internet, and it's free! Use it to monitor real-time user activity on your practice's website, determine how well your website and ads are performing, learn how users tend to navigate your site, and track all of the aforementioned KPIs.
While Google Analytics focuses on your website's traffic, Google Search Console hones in on the search engine. Use it to track, maintain, and troubleshoot your website's presence in Google Search results.
Additionally, you can use tools like Hotjar to better understand how users behave on your website. Unsure if your "Book Appointment" button is in an ideal location on your homepage? Heatmaps allow you to see how far users are scrolling and what they're clicking on most frequently.
Because your website is one of the most essential aspects for marketing your practice and driving patient acquisition, we've dedicated a full article to website KPIs.
Follower growth

Social engagement (likes, comments shares, clicks)
Each social media platform comes with its own analytics dashboard so you can see how well your channels are performing. Tracking social engagement on each platform will allow you to see what content resonates most with your followers so you can share more of it.
Rather than checking individual dashboards across platforms, you can consolidate them all using Hootsuite. Not only can you combine and view all your social media analytics in one location, but you can also schedule posts to multiple platforms directly from Hootsuite.
Email Marketing KPIs & Healthcare Industry Standards
Open rate, 21%

Click-through rate (CTR), 8.9%

Bounce rate, 0.6%

Unsubscribe rate, 0.4%
Increasing email deliverability is key for your practice to meet or improve upon the above industry standards for healthcare email marketing. We recommend using tools like MailCleanup or ListWise to clean up your email list at least once quarterly. You should also authenticate your email domain, email your patients and prospects consistently, and avoid "spammy" subject lines.
The Ongoing Patient Acquisition Evolution
As technology continues to improve, medical practices risk being left out in the cold should they choose not to embrace it. While the baby boomer generation continues to move into retirement, millennials and other younger groups of patients will exert more influence over healthcare consumerism. Thus, practices should take advantage of the ever-changing digital landscape to suit the preferences of technology-savvy millennials and members of Gen Z.
Navigating healthcare can be confusing and emotional. Making it easy for patients to get in the door is certainly a start, but convenience shouldn't end with online scheduling. Delivering a cohesive experience across all steps of the patient journey is becoming more essential in strengthening the patient experience to foster retention.
A solid patient acquisition strategy is vital for any healthcare practice looking to thrive. It can be challenging, but there are many ways to grow your patient base. The digital landscape of healthcare is always changing, and patient acquisition will continue to evolve alongside it. It's time to develop a strategy that works now, while also preparing for what's to come.