rater8 is an athenahealth Accelerate Parter
rater8's partnership with athenahealth continues to thrive! We're thrilled to share that rater8 is now an Accelerate Partner.
The Accelerate Program was created to distinguish and support a select group of Partners on the athenahealth Marketplace that have demonstrated strong growth and customer connections.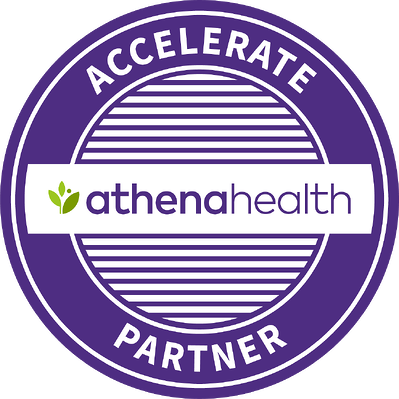 We're thankful for the opportunity to grow with athenahealth and its users. Check out our profile on the athenahealth Marketplace!
rater8 is Veradigm® Connect-Certified
We are proud to announce Veradigm recently certified rater8 as part of Veradigm Connect, formerly the Allscripts Developer Program.
"Joining Veradigm Connect enables rater8 to seamlessly integrate with Veradigm Practice Management so those users can immediately begin sending review requests and satisfaction surveys to patients," said Evan Steele, CEO and Founder of rater8. Learn more about this exciting certification at the link below!
Press Play: Intro to Google Business Profile
In this video, we explain how medical practices can create a brand-new Google Business Profile listing or claim a pre-existing listing. We also share some tips to ensure your practice ranks highly so patients can find you online. Press the play button to watch the video!
Here are a handful of new medical practices that joined the rater8 hive in October 2022.
Burnout is running rampant among remote workers. Consider these burnout prevention tips to ensure your employees remain healthy, productive, and engaged.
Patients often dread waiting rooms, but it doesn't have to be that way. We spoke with one of our clients to learn how they've crafted the ideal patient experience in their waiting rooms.
We sat down with rater8's Chief Technology Officer, Yossi Geretz, over a virtual cup of coffee to learn about his decades of IT experience and love of long-distance cycling.
This week marks the end of 2022 conferences for the rater8 team. We can't wait to see you all again in 2023!