rater8 had the opportunity to sit down with three representatives from Major Health Partners (MHP) to discuss the values and achievements of the Shelbyville, Indiana, hospital and health system. Director of Patient Experience & Volunteer Services Joshua Georgen, Director of Marketing Gena Linville, and Practice Manager Patty Scoville shared key factors that set MHP apart, one of which some may find surprising: their size.
"I used to think you needed to be a big health system to make a difference, a real impact," said Georgen. "Our staff look at it from the opposite direction. In this industry, when you're giving healthcare on an individual level, being small enough can actually have its advantages."
In an increasingly fast-paced world, it's easy to overlook the importance of personal connections. MHP recognizes personal connections hold immense value in providing holistic care. They cherish the opportunity to serve multiple generations from their community and continue to build upon the foundation of trust they've established over the years.
During our conversation, we discussed how MHP's approach has allowed them to excel in building provider-patient relationships, supporting staff growth, and continually improving the patient experience; all of which have helped make a significant impact in the Shelbyville community.
Contents:
Familiarity as a Strength
Many healthcare providers have experienced their share of moving from one health system to another. Unlike other larger hospitals, however, it's common to see employees who have been with MHP for 10-15 years or even longer.
"Many of our patients have come to us since they were very young," Scoville said. "I started out as a medical assistant taking care of them, and now some of them are my co-workers! They've grown up, gone back to school, and are still patients at MHP."
MHP's established community of team members brings trust, comfort, and expertise to the organization. It fosters an environment where collaboration between patients and providers can thrive, and ideas for improvement can be shared freely.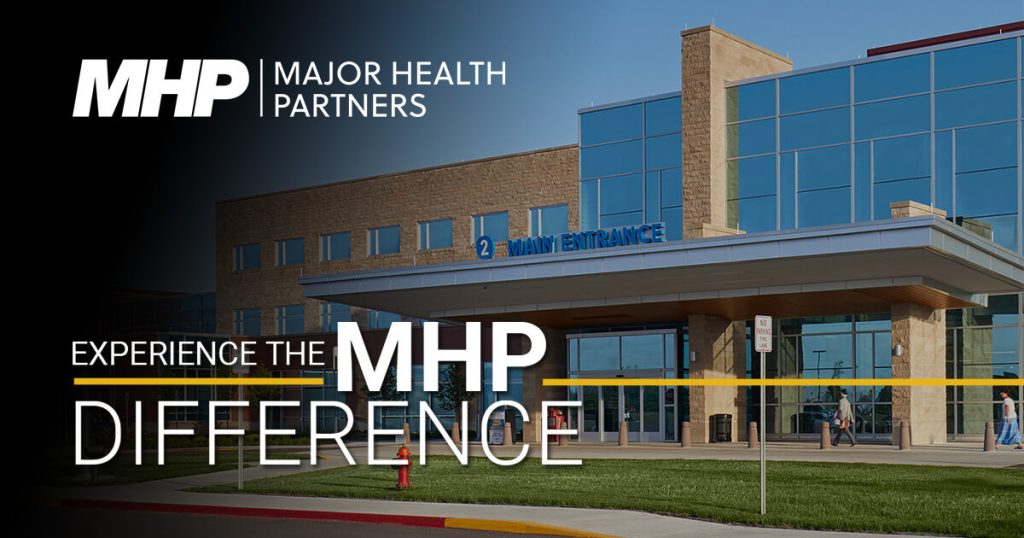 Above and Beyond as a Baseline
MHP has established itself as a magnet for top talent in the healthcare industry. Their reputation for excellence and commitment to quality has allowed them to attract the "best of the best" when it comes to recruiting new physicians. However, it takes more than clinical excellence to create an exceptional patient experience, which is why MHP fosters an environment where physicians feel supported, connected, and valued.
Community Starts During Onboarding
At MHP, all new providers are introduced to the entire facility at the beginning of their comprehensive orientation, offering them a family-driven feeling from the get-go.
"New providers go through the same orientation as other new employees," Scoville said. "Once they land in their area, they're partnered with a seasoned MHP veteran. This helps them feel supported and connected to the organization."
MHP understands that when physicians feel like they are part of a welcoming community, they are more likely to thrive both personally and professionally. MHP's emphasis on community-building during onboarding creates an environment where new providers feel supported and valued, resulting in a strong foundation for collaboration and teamwork; both essential elements in providing exceptional patient care.
MHP believes in empowering and supporting its staff to reach their full potential. That's why they worked with Vincennes University to develop a medical assistant training program, setting them apart from other healthcare organizations in the region.
The program spans 14 weeks, providing participants with comprehensive knowledge and skills to excel in their roles. MHP offers externships through the program, which gives participants real-world experience and the opportunity to see if they are a good fit at MHP.
"Applicants are high-caliber people who want to be in healthcare to give back to their community," Scoville said. "They complete their clinical externship hours at MHP and, whenever possible, we employ those who finish the program."
Patient Feedback as a Tool for Improvement
While every health system is bound to receive some negative feedback from patients, Scoville has taken proactive measures to tackle common pitfalls faced by clinical staff in healthcare settings.
Scoville recognized the importance of effective follow-up and responsiveness to patient concerns. To bridge the gap between patients and the care team, she made a strategic decision to staff their patient call center with clinical personnel. This change ensured that patients received prompt and knowledgeable assistance, and fostered better communication and understanding between healthcare providers and patients.
"We created care teams," Scoville explained, "so one or two staff members answer the phones for the same two or three providers. This helps build stronger relationships and patient trust."
rater8 plays a vital role in providing MHP with the patient feedback necessary to continually improve their quality of care. Using rater8 satisfaction surveys to gain real-time insights, MHP is able to make data-driven improvements and continually improve their patient experience.
MHP has brought their community closer together and developed an online reputation fit to match their real-world one, increasing their 5-star reviews by 9,097% in their first full year with rater8. Providers no longer have to rely on guesswork when it comes to patient satisfaction and experience. Instead, they can hear directly from their patients to identify areas for growth and development.
Linville said, "One of the most important things I would tell people is this: You can give providers and administrators the data, feedback, and comments, but in order to get the most benefit from patient feedback, the organization has to be willing to review those comments and react to them."
"It's not uncommon for our senior level executive team to review patient comments and ask the administrator for more details," Georgen added. "When you have executive team members expressing interest in patient feedback, it adds a level of importance and shows they take the data seriously as a way to make improvements."
By considering the patient perspective alongside data-driven insights, providers can bridge any gaps in understanding and tailor their approach to better meet the needs of those they serve. Taking a step back and considering the patient's point of view leads to more patient-centric care and improved outcomes.
Ultimately, it's through empathy and proactive engagement with patient feedback that organizations can create an environment where both patients and providers feel heard, understood, and valued.
Thanks to Director of Patient Experience & Volunteer Services Joshua Georgeon, Director of Marketing Gena Linville, and Practice Manager Patty Scoville for providing valuable insights into Major Health Partners' community-oriented values and dedication to excellence.