Healthgrades Overview
What is Healthgrades?
Healthgrades is an online review platform and physician directory. Healthgrades helps millions of patients find and connect with the right doctor or hospital. More specifically, Healthgrades helps patients:
Search for top-rated doctors or hospitals,
Read reviews from other patients, and
Book appointments.
As of 2019, Healthgrades has over 100 million users and has amassed data on more than 3 million U.S. healthcare providers. While Healthgrades creates physicians' profiles based on information from government and commercially available services, physicians can claim and edit these profiles.
Once a profile is claimed, physicians will be able to add photos, age, gender, information about specialties, and their background.
On Healthgrades.com, your patients can complete patient satisfaction surveys about their experiences with you and with your office/staff.
The survey provides patients with an opportunity to leave feedback as follows:
Rate their experiences out of five stars for a variety of survey questions.
Leave a free-text review about their experiences.

Is Healthgrades free?
Yes! Healthgrades is advertiser supported and therefore free for consumers and patients to use. If you are a provider, click here to claim your free profile. There are advertising options available for hospitals or medical groups to promote their providers on our site, and these profiles are clearly marked as sponsored profiles.
Where does your doctor data come from?
Data on Healthgrades.com is collected from a variety of sources including the National Provider Identifier Registry, a government directory of all active providers in the country, surveys directly from patients, claims data from government and third party sources, and information that comes directly from providers or practices.
Are doctors paying to be on this site?
Every provider who has a listing with the National Provider Identifier Registry has a free profile on healthgrades.com. There are advertising options available for hospitals or medical groups to promote their providers on our site, and these profiles are clearly marked as sponsored profiles.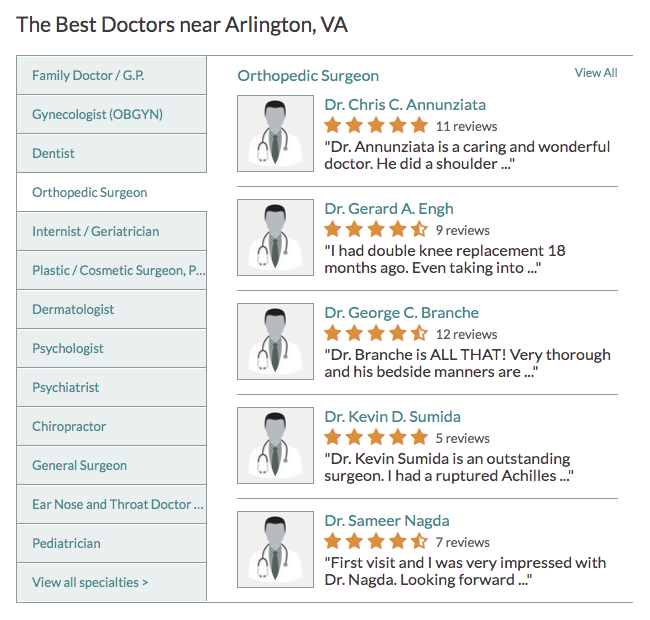 How do I remove a negative review on Healthgrades?
There may be instances where you'd like to remove a negative review on Healthgrades. Perhaps the review is dishonest and written by a disgruntled patient. Or perhaps the negative review is not even from a real patient. It's possible you've never seen the patient in the first place and the review is written for you by accident or in an attempt to tarnish your reputation.
To flag a negative Healthgrades review which you believe displays inappropriate content or privacy information, click on the ellipsis (…) in the top right corner of the comment box and select "Flag Comment." Complete the questionnaire and click "Submit Flag." Once submitted, the customer service team will be notified of the flagged comment and will review based on their review guidelines.
Are there rules on what I can and cannot say in my Healthgrades review?
Yes, and those are listed within Healthgrades' community guidelines. Any reviews that include name-calling, personal attacks, racist comments, threats, obscenities, phone numbers, email addresses or URLs will not be posted on healthgrades.com site.
Can doctors pay to have bad reviews removed on Healthgrades?
No, doctors cannot pay to have negative Healthgrades reviews removee. The only negative Healthgrades reviews that can be removed are ones that violate the Healthgrades review guidelines. Since you're unable to simply remove negative Healthgrades reviews, you should focus on building quality, 5-star reviews to outweigh and bury the occasional negative review. To build 5-star reviews on Healthgrades, explore here.
Can I remove my profile from Healthgrades?
Healthgrades provides information on healthcare providers as a free service to consumers, patients and other healthcare professionals. In its provision of this service, Healthgrades aggregates information related to provider practices from publicly available sources. If you are a practicing provider and the published information regarding you or your practice is publicly available and of interest to the general public, Healthgrades' policies prohibit complete removal of this information from Healthgrades.
Healthgrades Review Guidelines
Don't post content that is libelous, defamatory, harassing, threatening, or inflammatory.
Don't use obscenities, profanity, or express intolerance for others on the basis of race, ethnicity, nationality, gender, gender identity, religion, sexual orientation, age, or disability.
Don't post content that is obscene or lewd.
Don't post misleading, deceptive or fraudulent content.
Don't post content that contains personal information including phone numbers, email addresses, mailing addresses, full name, or other personal information.
Don't post content with personal website links or mentions.
Don't impersonate other people or organizations, or pretend to be someone or something you are not.
Don't engage in name-calling or personal attacks.
Don't post content that mentions or endorses specific brands including pharmaceuticals.
Don't post content mentioning legal matters or proceedings.
If your review is rejected for violating our business or privacy rules, you can submit a new review.
Once your listings are claimed, it's important to optimize your profiles by ensuring the information is complete and up-to-date. Once this is done, it's time to start building your online reviews!