What is Healthcare Reputation Management?
Healthcare reputation management is increasingly important for doctors, medical practices, and hospitals, alike. As more patients search for their providers online, it's important to have a strong online image and presence – one that instills confidence in the doctors' abilities.  Healthcare reputation management means taking control of your image and brand to attract more patients.
To better understand healthcare reputation management, ask yourself the following questions:
When prospective patients search your doctors' names or medical practice online, what do the patients see? And what's their first impression?
Go to Google and search for your individual doctors or medical practice. You may be surprised by the results…
When doctors hear the marketing buzz phrase "reputation management', they tend to think about just their online reviews.
Healthcare reputation management encapsulates doctors':
Online profiles, reviews, and ratings across Google, Healthgrades, Vitals, WebMD, Facebook, and more
Presence across online physician directories
Authored articles
Medical practice website
Reputation management for doctors is a hot topic. The use of internet and social media has exploded in recent years and many patients now rely on the internet for healthcare provider recommendations. Historically, many physicians only grew their patient base through word-of-mouth. This is no longer necessarily true. Now, more and more patients are being sourced from the web through paid ads, organic search, online reviews, and online physician directories.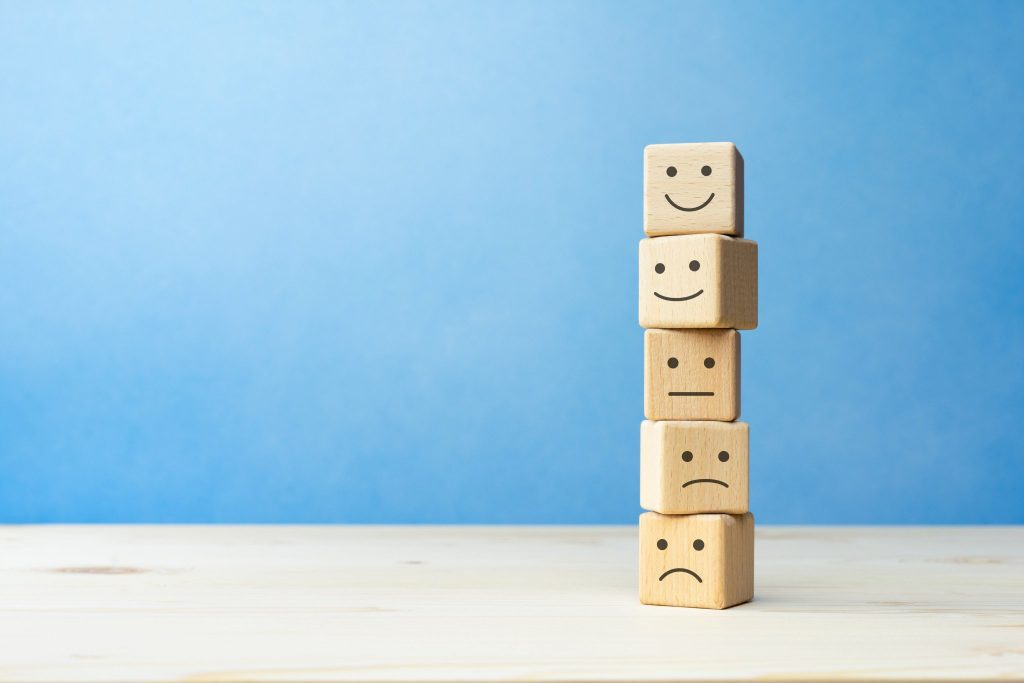 Benefits of Reputation Management
The goal of healthcare reputation management is to optimize a doctor's online digital footprint. And with an effective healthcare reputation management strategy in place, doctors and medical practices will attract more patients, increase their practice profitability, and build their reputation in the communities they serve. Additionally, a strong online presence with lots of 5-star reviews will help medical practices outshine their local competition, making them the "go-to provider" in their city.
Why is Managing My Online Reputation Important in 2022?
Managing a doctor's online presence has never been more important. After all, we live in an increasingly digital age as more and more patients turn to the internet for healthcare recommendations.
Doctors spend their careers building their reputation, brand, and earning the respect of their community and professional peers.
As a physician, your online reputation takes years to build and single moments to ruin. One online review from a disgruntled patient (or competitor) can tarnish your reputation, costing you patients and money. And when that reputation is tarnished, others notice.
In some instances, reviews can be removed from the internet if they violate certain guidelines (Google, Yelp, Healthgrades, Vitals). However, usually, once a negative review is posted online, it stays there for years for new patients to see.
Hypothetically, if you had 24 reviews, averaging 2.8 stars on Google, would you be proud of those numbers? Would you feel comfortable posting those same reviews and testimonials on your own website? Probably not…
And as a patient, would you really feel comfortable getting operated on by a doctor with subpar reviews and ratings?
Imagine you are prospect patient searching for a pediatric ophthalmologist in New York City. Your primary care physician provided you two referral options. Who would you choose below, after a quick Google Search?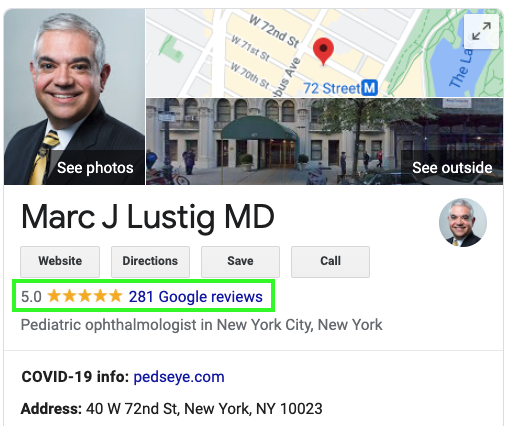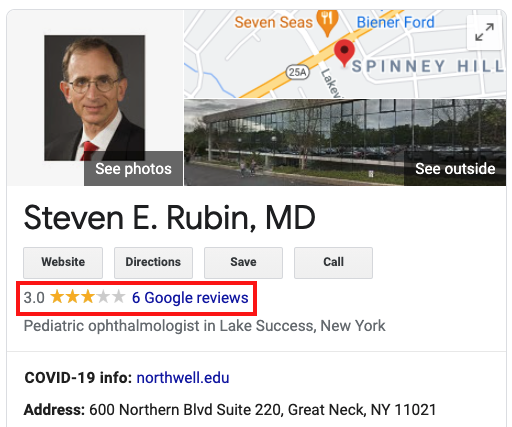 Similarly, if you were searching for an orthopedic practice in Raleigh, instead of the individual surgeon, who would you choose?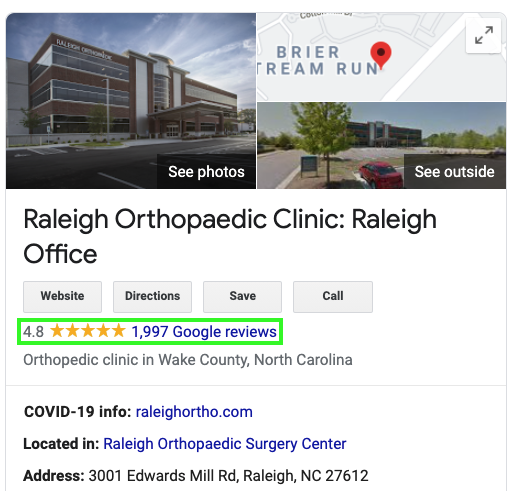 Another way patients find their providers is through a "local search" in Google. An example of a local search is "Best orthopedic surgeon near me" or "Best urologist in Boston, MA". In these instances the patient is looking for recommendations. When patients perform these searches, the Google 3-pack appears. The Google 3-pack appears at the top of the search results, before any organic listings. 
In the below example, we Googled "Best orthopedic clinic in Raleigh North Carolina". The Google 3-pack appears immediately below, featuring three Google My Business listings. 
You'll notice that the top two listings are actually both from Raleigh Orthopaedic Clinic. Combined, both listings have over 2,000 Google reviews averaging 4.8 and 4.7 stars. Compare this to the third Google My Business listing from Wake Forest, with only 58 reviews and 3.5 stars. 
Based on these Google search results, if you were a patient, who would you call: Raleigh Orthopaedic Clinic or Wake Orthopaedics? This is a prime example of how a negative online image can be deterring patients away. And thanks to their stellar online image, Raleigh Orthopaedics is attracting more patients and outshining their local competition online.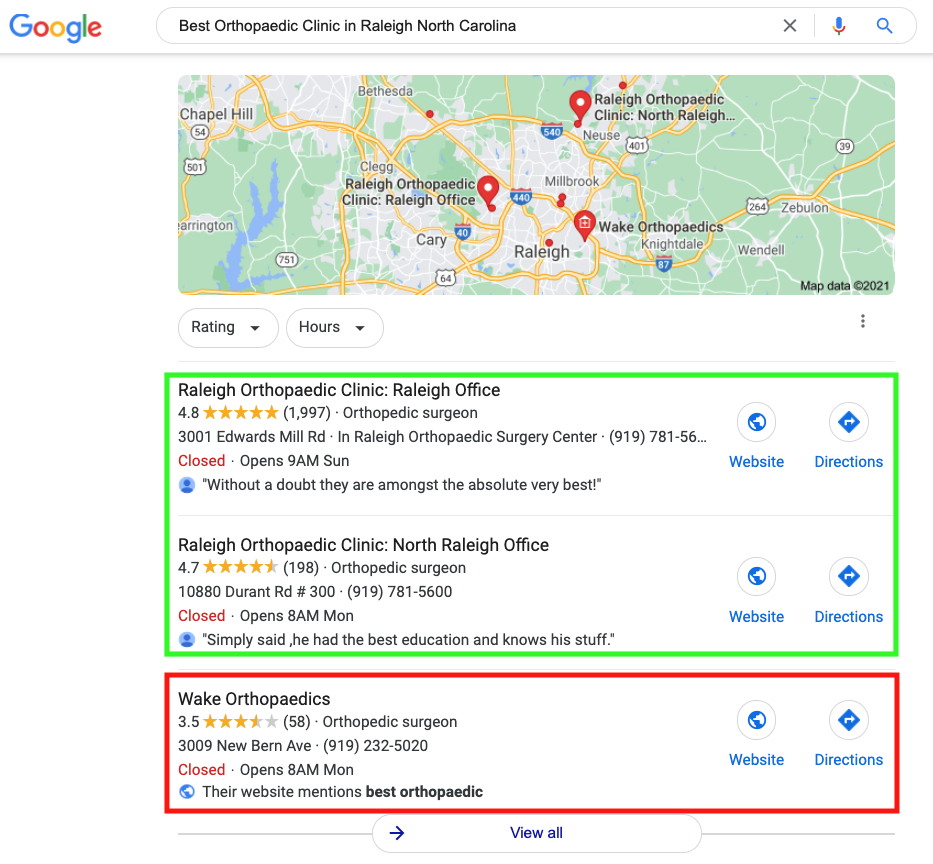 Healthcare Reputation Management Statistics
If you want to understand the importance of healthcare reputation management, consider the following statistics.
77% of patients use online reviews as their first step in finding a new doctor.
47% of patients would go out-of-network for a similar doctor with better reviews.
84% of patients use online reviews to evaluate physicians.
Heard about a new restaurant opening in town? Perhaps you're visiting a new city and don't know where to eat? In this scenario, many people immediately turn to Yelp or Google for recommendations, reviews, and ratings.  You may be willing to try eating at a 3-star restaurant, but most wouldn't feel comfortable getting operated on by a 3-star doctor. After all, nothing is more important than your own health and well-being. Searching for a doctor is no different.
Place yourself in the patients' shoes. Imagine you're in need of a new physician or specialist. Word of mouth is certainly important. However, word of mouth is hard if you're in a new city or don't have a connection. Therefore, more patients are relying on online search and online reviews from Google, Healthgrades, Vitals, WebMD, and Facebook.
FREE Online Reputation Scorecard
How does your practice stack up?
See how your online listings appear across every major reputation website, including Google, Healthgrades, Vitals, and more!
Request Scorecard
Tips & Tricks for Managing Your Reputation in 2022
First and foremost, physicians should create and/or claim all of your online listings, like Google My Business, Yelp, Healthgrades, Vitals, and Facebook.
By gaining control of your listings, you can ensure all of the information in your listings is correct. In order to modify an online listing, you need ownership access. There are hundreds of online directories and the list continues to grow. However, remember that not all directories are equal. Focus on the review sites and directories that matter. The most popular review platforms for doctors are Google My Business, Healthgrades, Vitals, Facebook and Yelp.  More importantly, claiming the listing ensures that you are automatically stayed up-to-date of any changes or activity, which leads us to our second point. Don't have the time or energy to claim your listings? rater8 can help. Our consulting services take the pain away. 
Once the online listings are created and claimed, it is important to update the listing and fill them out completely. You'll want to make sure that your profile is complete. You can complete your profile by adding office hours, a description of your medical background and outlining your speciality. Also make sure to be as specific, not generic, as possible. One common Google My Business mistake is that physicians will categorize themselves as a "doctor", instead of an "orthopedic surgeon." If you want to appear in online searches for "best orthopedic surgeon near me", it's important you categorize yourself as one on Google. Additionally, it's important to include this target word throughout the Google My Business bio and description, along with the common medical procedures you treat. 
Add professional quality photos to your doctor and medical practice listings. It's important to make a strong impression with prospective patients. No one wants to see a headshot taken on an iPhone. You should have a professional headshot to convey the standard of excellent you provide. By default, Google My Business will sometimes use the Google Maps image as the profile picture. By claiming your listing, you can choose your profile picture and instead use a professional headshot or photo of your team/medical practice.
Reply to online reviews. It's important to reply to positive and negative reviews alike and do so in a timeline manner. When replying to online reviews, remember to be clear, concise, and professional. Keep in mind that any response is there for the world to see. Because you're replying to patients, be aware of any potential HIPAA violations. 
Grow your online reviews through automation. At rater8, we've seen different medical practices experiment with ways to build online reviews. Some hand out a business card or have a sign at the front desk, soliciting reviews . Other doctors will verbally ask a patient to leave an online review. However, this is not smart or practical. Manually email patients isn't a great strategy either. It's too hands-on and time-consuming. Instead, you want to automate the process of growing online reviews. You want to ensure you have a steady increase of online reviews over time.  You don't want to aggressively build your online reviews for a few months and then abandon the effort. When it comes to online reviews, you want to have volume AND recency. This will instill the greatest confidence in your online readers.

Build a balanced online image with tons of reviews and 5-star ratings across all review platforms. 

When it comes to healthcare reputation management, we recommend focusing your time and energy on Google to start. However, over time, you should aim to grow your online reviews across other review platforms like Healthgrades, Vitals, Facebook, WebMD, etc. The goal is to have a prefect, balanced online image across all review platforms, not just one. 

Monitor your online reviews. 

Designate an individual from your medical practice to stay on top of any new activity. This should be the same person that claims ownership of the listings. You want to have a pulse on any new reviews written on the internet. Google My Business will alert you automatically any time a new review is written. 
Build a modern responsive website. When people arrive at your website, are they greeted by on old, poorly designed website. Your website is patient-facing and it's crucial that it leaves a strong first impression with all online visitors. Once you've build a high volume of quality reviews, be sure to highlight the positive feedback and reviews directly on the home page or doctor bio pages. 
Become a thought leader. Write articles and create videos, discussing and explaining the cases you treatment. Prove to others that you are an expert in the field. This is one effective way to build your online reputation.
rater8: Leaders in Healthcare Reputation Management
Do any of the following sound familiar?
Is your medical practice or individual doctors plagued with poor online reviews and ratings?
Are you investing too much time and energy asking patients to leave online reviews with little results?
Are your competitors outranking and outperforming you online?
Looking to increase your patient volume?

rater8 is the leader and pioneer in reputation management for doctors. Our state-of-the art-solution was designed specifically for healthcare providers so we understand your challenges and goals. We'll help you grow your online reviews so you can attract more patients and thrive in a hyper-competitive market.
P.S. rater8 offers a risk-free, 30-day free trial. We take care of the implementation and set up. You can sit back and watch your online reviews and ratings take off.