Medical practices are quickly realizing the power of email marketing. A study from technology market research firm The Radicati Group showed that email is still the most popular form of communication for businesses. An estimated 320 billion emails were sent and received worldwide every day in 2021! With over 4.1 billion email users worldwide, email is undoubtedly one of the most effective channels for marketing to patients.
Not only do doctors have the second-highest open rate for email marketing (just behind religious organizations), but email is one of the most cost-effective ways to connect with current and future patients. Patients love to hear from their doctors and are becoming more comfortable communicating with them via email. Now is the perfect time to start using this channel to reach out to your patients. This blog post will discuss some standard use cases for email marketing in the healthcare industry, when you should send emails to your patients, and how you can maximize the benefits of this powerful channel.
Is it Okay to Email Patients?
But be careful—while patients tend to expect emails from their healthcare provider, there are things you must be mindful of when writing your email. First and foremost, you must ensure your emails comply with the Health Insurance Portability and Accountability Act of 1996 (HIPAA).
Staying HIPAA Compliant via Email
The HIPAA Privacy Rule defines marketing as "communicating about a product or service that encourages recipients to purchase or use the product or service." Because your goal is to attract more patients to your practice, this rule applies to you!
So, how do you ensure your marketing email is HIPAA compliant? Here are a few things to keep in mind:
Before using protected health information (PHI) for marketing purposes, you must obtain patient consent. Intake/HIPAA forms should outline your organization's privacy practices and specifically state that your organization can use patients' email addresses for marketing. Work with an attorney to ensure you're using the appropriate language.

Email addresses are PHI, and encryption is

a requirement for ensuring

HIPAA-compliant email

. 

Consider using a HIPAA-compliant email vendor.

Any email marketing platform you partner with must sign a

business associate agreement (BAA)

with you.

Do not send emails with patient information, such as photos, unless your patient has given you specific permission to do so.

Unsubscription instructions in your marketing emails must be clear, straightforward, and easy for patients to understand.
While HIPAA is specific to healthcare, there are also rules that all email marketers must follow regardless of their industry. In addition to HIPAA, you must abide by the Controlling the Assault of Non-Solicited Pornography and Marketing Act of 2003. This is also known as the CAN-SPAM Act.
The CAN-SPAM Act sets the rules for commercial email, establishes requirements for commercial messages, gives patients the right to have you stop emailing them, and spells out tough penalties for violations. The law covers any email for which the primary purpose is advertising or promoting a commercial product or service.
To stay compliant with the CAN-SPAM Act, here are a few things to remember:
You must provide a way for recipients to opt out of receiving future emails from you. Like in HIPAA regulations, you must provide an opt-out method and honor these requests promptly. This means each email you send must contain an obvious and conspicuous notice that the message is an advertisement or solicitation, and that recipients can opt out of receiving more emails from you. The notice must also include your valid physical postal address. You cannot use an email address in this notice.

Identify the message as an ad. The law offers a lot of leeway in how to do this, but you must clearly disclose that your message is an advertisement.

Do not use deceptive subject lines. The subject line must accurately reflect the content of the message.

Do not use false or misleading header information. Your "From," "To," "Reply-To," and routing information, including the originating domain name and email address, must be accurate and identify the healthcare practice that initiated the message.

Tell recipients where your practice is located. Your physical address must be included in any commercial email.
Following HIPAA and CAN-SPAM regulations will help you avoid costly fines and maintain your patients' trust.
Now that we've covered the legalities of healthcare email marketing, let's get into what makes email such a powerful tool when used correctly. Below are some common use cases in healthcare.
Free Download!
rater8's Healthcare Marketing Guide
Learn about search engine optimization, pay-per-click, email campaigns, and more.
Download Now
Healthcare Email Marketing Ideas
A welcome email is a perfect way to introduce new patients to your practice. In this email, you can include information about your staff, office hours, contact information, and what patients can expect during their first visit. You can also use this opportunity to upsell other services that your practice offers. This first email is your opportunity to set expectations and make a solid first impression.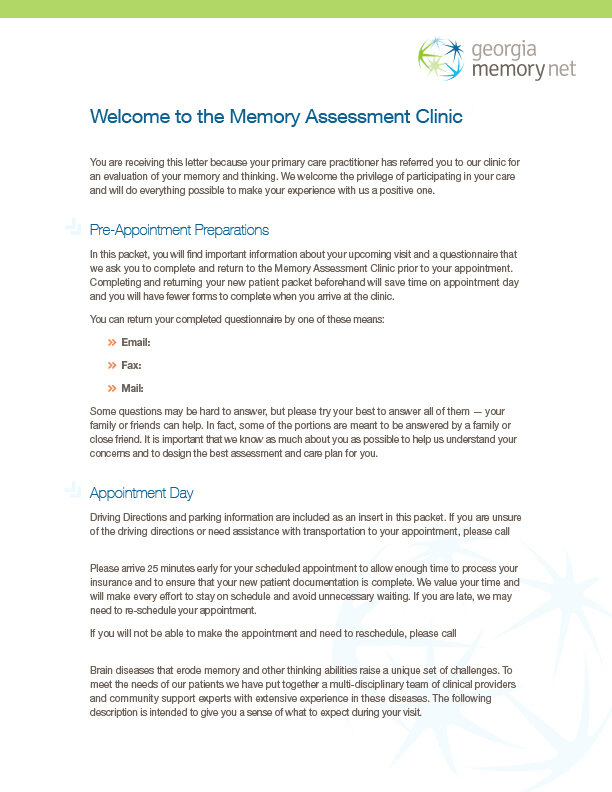 Forbes shared a study that found "no-shows," or patients who miss their appointments, cost the U.S. healthcare system $150 billion annually. Individual physicians lose an average of $200 per unused time slot. While many factors contribute to no-shows, appointment reminders have shown to be an effective way to reduce them.
One of the reasons appointment reminders are so effective is because they can be tailored specifically to each patient. For instance, you can send a reminder email a week in advance for a patient who rarely misses an appointment, but you may want to send a reminder email a day or two in advance, or even the day of, for a patient with a history of no-shows.
You can also segment your email list by appointment type. Patients coming in for routine check-ups may need different information than patients coming in for a procedure.
Sending targeted and relevant appointment reminders will help reduce no-shows and improve the overall efficiency of your medical practice.
Email marketing can also recruit new patients to your medical practice. For example, you can email potential patients in your area who have recently moved or had a baby, as these records tend to be publicly available and easy to locate.
You can also use email marketing to reach out to patients who have seen a competitor. Offering a special discount or promotion may lure them away from your competitor and turn them into loyal patients of your practice.
You must ensure your email list is up to date and accurate. Don't waste time and money sending emails to people who are no longer living in your area, or who aren't in the market for a new healthcare provider.
Educating patients about their health is a great email marketing strategy. You can send educational articles or videos about specific conditions or diseases related to your practice's specialty. You can also use email to remind patients to get their annual flu shot or schedule routine check-ups.
Providing valuable and relevant content will build trust with your patients and position your practice as a credible source of information. This will allow you to further establish connections with your patients, leading to patient loyalty.
5. Promotions and Special Offers
Email is a great way to promote special offers and discounts. You can offer a discount on a new service or product, or even a free consultation for new patients.
You can also upsell existing patients on additional services or products. If a patient has been seen for a specific condition, you can send them information about a new treatment that may be available (if they've given you permission, of course).
Promoting special offers and discounts can attract new patients and increase revenue for your medical practice.
6. Patient Testimonials and Online Reviews
An authentic way to earn trust with prospective patients is to showcase testimonials and online reviews from your current patients. Share testimonials and 5-star reviews via email to help boost confidence in potential new patients. If you use rater8, you will have plenty of testimonial-grade reviews to choose from! You can also link to your rater8 Verified Reviews page to guarantee the reviews are from real patients.
When and How Often to Email Patients
Many factors, like the specific goal of your email marketing campaign, determine when and how often you should email patients. You don't want to overburden inboxes, but insufficient outreach may also hamper your efforts. There is no one-size-fits-all solution, so spend some time determining what works best for your medical practice.
For appointment reminders, you'll want to send them in advance of the appointment date, but not so frequently that patients become annoyed. A good rule of thumb is to send reminder emails a week in advance for routine appointments, and a day or two in advance for specialty appointments.
You could email patients once a week or once a month if you're sending educational materials. If you are promoting a special offer or discount, you may want to email patients more frequently, such as once a week or even once a day.
When reviewing your healthcare email marketing strategy, consider the sending frequency, but place segmentation at the top of your priority list.
How to Segment Patient Emails
This is where segmentation comes in. Segmenting your email list allows you to send targeted emails to specific groups of patients. This ensures your recipients are more likely to engage with your email, which can lead to even more patients.
There are many ways you can segment your email list, but here are a few common examples:
By location.

You can segment by city, state, country, or ZIP code. This method is especially handy if your healthcare practice has multiple locations.

By age group.

This is a great way to target seniors, parents of young children, or anyone in a specific age group.

By interest. You can segment your list by interests or conditions. For example, you could send emails about arthritis to patients who have been diagnosed with arthritis or are at risk of developing it. Bear in mind you'll need patient permission to do this!
Now that you know how to start an email marketing campaign for your medical practice, you need to know how to measure its success.
Measuring and Tracking Your Results
How do you know whether all your marketing efforts are paying off? Measure and track your results!
When it comes to healthcare email marketing, there are many ways to measure the success of your campaign. But it is essential to know the industry standard percentages so you can see where you stack up against them.
These are just a few of HubSpot's standards for the healthcare industry:
Open rate:

The percentage of recipients who open your email. A reasonable open rate is usually between 15% and 20%. However, because patients tend to expect emails from their healthcare provider, the average open rate is 21% for the healthcare industry.

Click-through rate (CTR): The percentage of people who click on at least one link in your email. This can be calculated by dividing the overall number of clicks by the total number of opens, then multiplying by 100 to get your percentage. HubSpot reports the healthcare industry sees an average CTR of 8.9%; however, other sources disclose a lower benchmark CTR average. Campaign Monitor reports 3%, and 9Clouds reports 5%. Despite the wide range, it's safe to say a CTR between 3% and 5% is fantastic, considering the average across all industries is around 2%.
Unsubscribe rate:

The percentage of recipients who have opted out of receiving your emails. Fortunately, people love emails from their doctors, so the unsubscribe rate for your practice should be no higher than 0.4%.

Bounce rate: There are two types of email bounce rates. A hard bounce is an email that cannot be delivered for more permanent reasons, like the recipient's email address no longer exists. A soft bounce refers to a failed delivery for more temporary reasons, like a full inbox. MailChimp reports the average healthcare marketing email bounce rates at 0.51% for hard bounces and 0.63% for soft bounces.
When it comes to hard and soft bounces, there's not much your healthcare practice can do to prevent them. However, it's a good idea to clear out the contacts who aren't receiving your emails due to bounces.
Increase Email Deliverability
Deliverability refers to how often emails reach the subscriber's inbox. Deliverability failure happens when an email is misclassified as spam or blocked. We've put together a list of tips to help you increase your email deliverability and improve your campaign results:
1. Authenticate Email Domain
Add DomainKeys Identified Mail (DKIM) and Sender Policy Framework (SPF) records to your domain name's DNS to authenticate and verify your email domain. To find the DKIM and SPF records, check your email provider (e.g., Site Ground, GoDaddy, G Suite, Microsoft) to see if the platform you want to use for marketing emails requires the addition of any other records to your DNS.
SPF works by strictly specifying the number of domain IPs allowed to send emails from your domain. DKIM is also added as a TXT record in your domain panel; it ensures the emails going from server to server are not tampered with.
If you want to add an additional layer of security, you can also add a Domain-based Message Authentication, Reporting & Conformance (DMARC) record to your DNS. DMARC builds on SPF and DKIM to further validate emails by matching the validity of SPF and DKIM records.
2. For New Emails Accounts: Manually Send Emails
If your email account is less than one week old, manually send a few emails every day for a couple of weeks. Email providers are sensitive to new email accounts and usually flag them.
To combat this issue, send and receive regular emails with the new email account for at least a month before your domain is added to the safelist. Additionally, send them manually (without email automation) to different email address types, like personal Gmail and professional Outlook accounts, just as you would friends and colleagues.
3. Make "Unsubscribe" Clear
Not only is a clear unsubscribe option required by HIPAA and the CAN-SPAM Act, but it can also help with deliverability!
In all your marketing emails, ensure you are adding an obvious unsubscribe link and a description of why the patient is receiving the email from you. For instance, "You are receiving this email because you opted into notifications from your doctor at [your practice's website]."
4. Add Your Practice's Physical Address
To stay compliant with HIPAA and CAN-SPAM regulations, it's good practice to add your medical practice's physical address to all marketing emails.
5. Test Your Email Deliverability
Don't leave it up to chance! You can test your email deliverability before you actually send emails out to your patients. This will ensure all your emails are getting delivered and will give you the opportunity to fix any critical errors.
Tools like Mail Tester allow you to check the "spamminess" of your emails. Certain words and phrases will trigger spam filters. Avoid spammy words or phrases in your subject line and email content like "risk-free."
6. Clean Your Email List Quarterly
A clean email database will help you avoid hard bounces that damage your domain's reputation. You can do this manually by checking for spelling errors and removing generic email addresses. Alternatively, you can use tools like MailCleanup, ListWise, ZeroBounce, and MyEmailVerifier to clean your lists automatically.
7. Keep Your Database Spam-Free
Add CAPTCHA to distinguish people from robots and keep your email database clean and spam-free. You can also add a double opt-in to your sign-up forms.
The more frequently you email your patients, the more engaged and less likely they'll be to mark your emails as spam. But remember, keep an eye on your metrics! You don't want to send so many emails that you annoy your patients.

While there's no guaranteed way to get every single one of your emails delivered to inboxes, following these tips will help increase your chances.
Hit Send on Your Healthcare Email Marketing Strategy!
Email marketing is a great way to improve patient engagement and loyalty. Following the steps in this guide will help you create a healthcare email marketing campaign that works for your practice. Be sure to follow the rules and regulations, segment your list, monitor your results, and always keep your patients' best interests at heart.
What are you waiting for? Get started today!
FREE Online Reputation Scorecard
How does your practice stack up?
See how your online listings appear across every major reputation website, including Google, Healthgrades, Vitals, and more!
Request Scorecard