Finding and retaining top talent is critical for any business, but what exactly are employees and job seekers looking for in a job?
People want to work for companies that value their employees.
As a certified Great Place to Work™, rater8 strives to implement workplace experiences that employees value. rater8's most recent employee survey indicates there are six key factors our people value most. In this article, we'll explore each of these factors, what they mean for rater8, and how other employers can benefit from creating a culture that provides employees what they want.
In today's fast-paced work environment, achieving a healthy work/life balance has become increasingly important to employees. A study by Deloitte found that 94% of working professionals said well-being was important to them, and 80% of respondents in a FlexJobs survey said work/life balance was the top factor in their job search. As an employer, it's important to offer remote work options, flexibility, and generous vacation policies to help employees achieve a better work/life balance.
rater8 is a fully remote company, now and always. By offering our employees the ability to work anywhere they have a stable wi-fi connection, they are able to balance their personal and professional priorities. We also offer unlimited paid time off so that our employees can take off and recharge as needed.
Feeling appreciated and being recognized for their hard work is another top priority for employees. A survey by TINYpulse found that 21% of employees who don't feel recognized at work are actively looking for new job opportunities. On the other hand, a survey by Achievers found that 82% of employees wish they received more recognition, and 90% say that recognition at work motivates them to improve their job performance. 
At rater8, 92% of employees stated management shows appreciation for good work and extra effort! Employers can show appreciation in various ways, such as offering bonuses, promotions, and public recognition depending on what works with your budget and culture. Here are some ways we show rater8ers we appreciate them:
Celebrate promotions every month during our company-wide town hall — 38% of employees received a promotion over the last 12 months.

Feature our new hires and monthly employee spotlights on LinkedIn.

Highlight employee testimonials on our

careers webpage

.

Celebrate our GPTW™ certification by sending every employee a branded tumbler.
Ready for your next career move?
Join our hive!
Learn about rater8's culture, our open positions, and more!
See More
Being made to feel welcome
Feeling welcome and comfortable in the workplace is crucial for employee satisfaction. According to a survey by Glassdoor, 76% of employees said they want to know about a company's culture and values before accepting a job offer, and 71% of job seekers said the people they work with are the most important factor when considering a job offer. To make employees feel welcome, employers should foster a positive work environment and encourage team building and collaboration.
When a new hire, or "new-bee" as we like to call team members who join our hive, starts with rater8, we kick off their first day with a virtual orientation hosted by HR. We also send a company-wide email inviting everyone to help us welcome the new-bee. This is typically followed by a department-specific meeting in which they get to meet their peers.
We are proud that 100% of rater8ers state they are made to feel welcome when they join the company!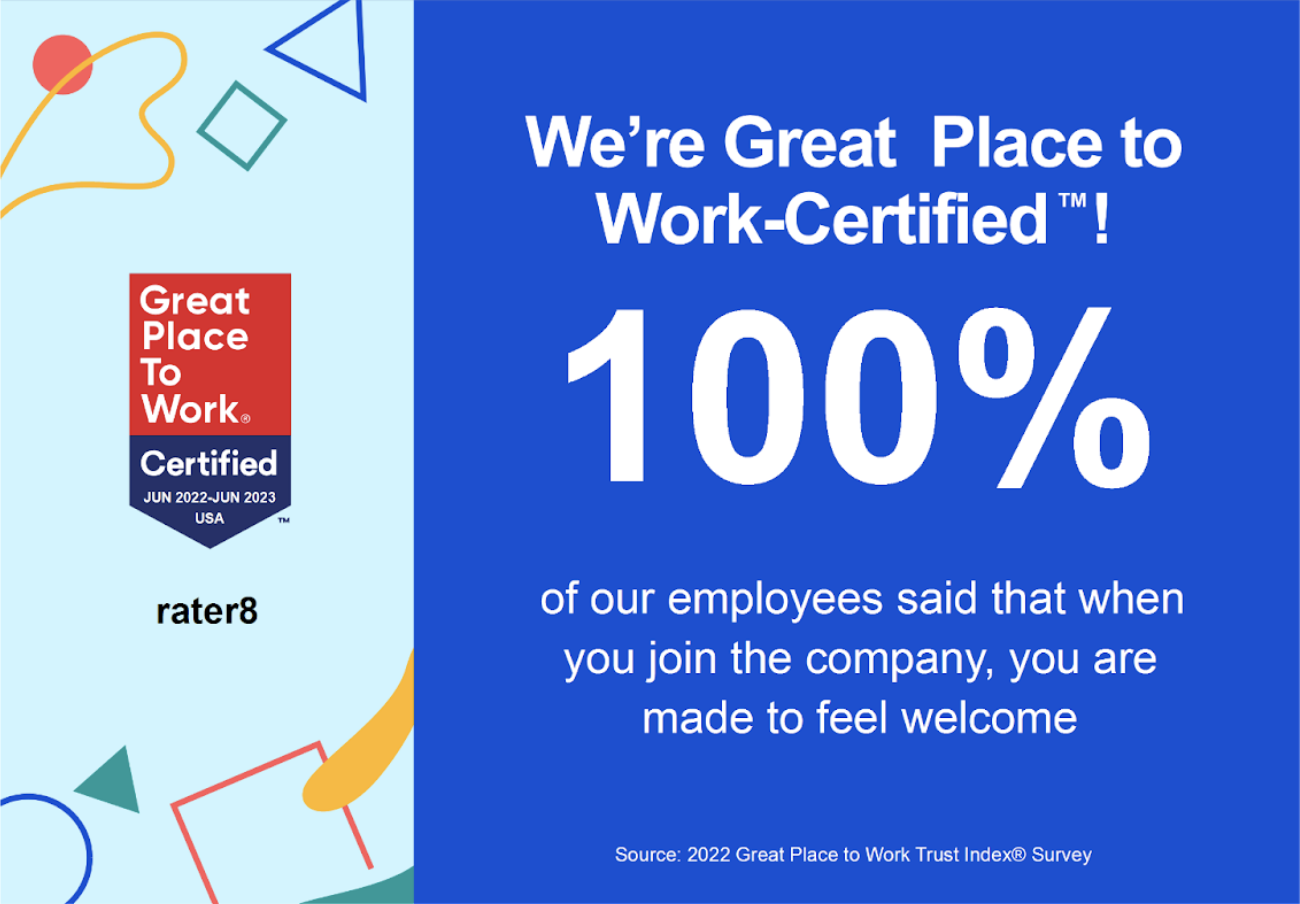 Salary and compensation is a major factor in job satisfaction. A study by Payscale shows that two-thirds of job seekers believe they're paid below market. As an employer, it's important to offer competitive salaries and benefits to attract and retain top talent. At rater8, we aim to stay ahead of the competition by leveraging salary data from Culpepper to ensure our compensation packages meet or exceed industry averages.
In the event we discover our salaries are not competitive, we make necessary market adjustments. This helps employees feel valued and loyal, decreasing the risk of them leaving the company based on compensation.
Opportunities for development
Investing in employees' career development is essential for retaining top talent. According to a study by LinkedIn, 93% of employees said that they would stay at a company longer if it invested in their careers.
Employers should offer training, mentorship, and career advancement opportunities to help employees grow and develop their skills. At rater8, implementing a learning and development program that makes employees happy is a work in progress. Here is what we're doing to ensure rater8ers have opportunities to learn new hard and soft skills:
We are always seeking feedback from our employees to see what professional development courses they would value most so we can add them to our course catalog.

We have implemented mandatory new-employees training courses that foster personal and professional growth on topics such as emotional intelligence and unconscious bias. Such training provides insight for working effectively and engaging with colleagues in a remote and

multi-generational work environment

.

Specialized training paths for first-time managers.

Leadership training for our executives to foster a top-down approach to reducing bias in the workplace.
Employees want to work for a company they can be proud of, one that has a positive impact on society and the environment. Employers should communicate their company's values and mission, and support local causes to engage and motivate employees.
In response to our employee survey, which indicated our employees want to feel good about the way rater8 contributes to the community, we celebrated National Volunteer Month in April. Employees were given a volunteer day off to give back to a charity of their choice in their local neighborhood.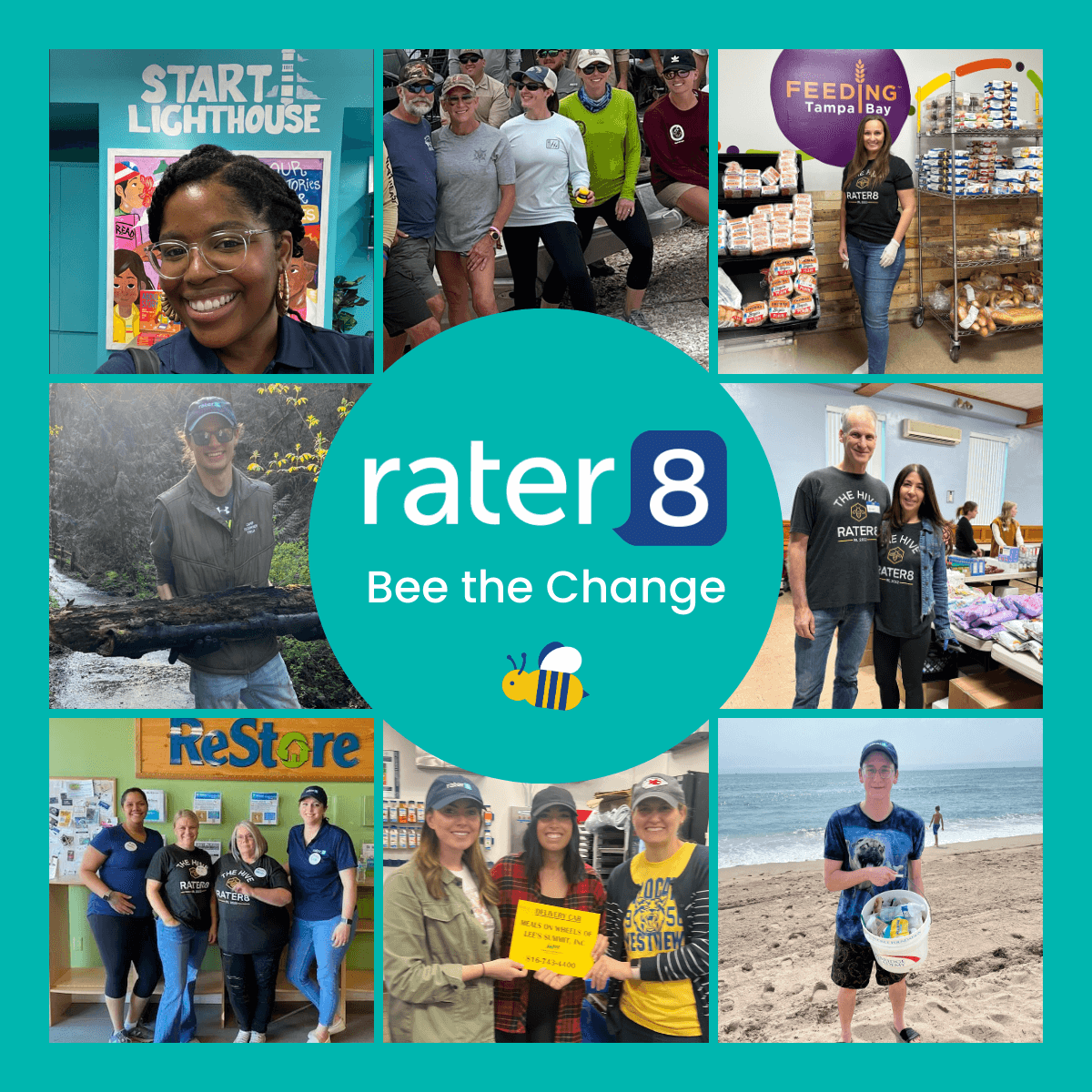 In conclusion, work/life balance, feeling appreciated, fair pay, a welcoming environment, pride in the company, and opportunities for development are the factors that employees and job seekers value the most. As an employer, it's important to understand these priorities and offer a workplace that meets these needs to attract and retain talented employees.
A leader in healthcare reputation management, rater8 proudly boasts a dynamic remote work environment and a Great Place to Work™ certification.
With a dedicated human resources team, rater8 strives to ensure our employees are valued and engaged. As a member of our team, you will receive a myriad of benefits and perks, including:
A fully-remote work environment

Unlimited PTO

Comprehensive health benefits

Additional wellness benefits

A 401(k) plan

rater8 apparel and "swag"

Company-wide social gatherings
Ready to join the rater8 hive? Explore employment opportunities with rater8 on our careers page. We look forward to having you on the team!
Do you have a question about working for rater8? Connect with our Head of Talent, Kelly Francis, today!