From new product releases to industry recognition, we couldn't be more excited to share the many successes our hive experienced in 2022!
In this article, we'll take a look at the standout features rater8 introduced this year, the awards and accolades we received, and a "by the numbers" breakdown of our accomplishments.
Contents:
rater8 experienced tremendous growth as a platform and company in 2022. Compared to 2021, our flagship solution saw a dramatic increase in review requests sent, online reviews built, and survey questions answered, while our hive continued to add team members from around the country.
Here is a breakdown of our past year:
Patient Sentiment Analysis
Previewed in 2021's year in review, the patient sentiment analysis feature uses an artificially intelligent natural language processor to better evaluate patient reviews and feedback.
With the comment-sentiment algorithm, rater8 evaluates and scores every comment, and assigns each review a "positive," "neutral," or "negative" tag. For example, a patient comment like this would be assigned a positive sentiment: "My doctor was amazing, and the wait was short!"
The sophisticated feature also allows users to sort and organize comments, including by score or specific type (e.g., staff name, keyword).
With rater8 Social, our partners can share glowing patient testimonials directly to their Facebook feed without lifting a finger. Engaging patients outside of the office has never been easier! 
Using internal algorithms, this feature intelligently prioritizes 5-star reviews and automatically shares them directly to Facebook. Practices can even customize post frequency, as well as monitor, edit, and delete posts directly from the rater8 dashboard.
As a part of our effort to continuously improve our flagship solution, we upgraded our platform's internal security protocols in 2022. 
Today, rater8's enhanced encryption algorithm ensures all Protected Healthcare Information (PHI) is safely and securely stored. For further protection, rater8 also purges all PHI not in active use.
In the spirit of providing our clients continued peace of mind when it comes to securing the integrity of their data, rater8 successfully completed a System and Organization Controls (SOC) 2 audit.
The exhaustive audit required steadfast internal commitment and hundreds of dedicated hours to ensure we're taking the proper measures and enacting strong controls to protect our clients' data. rater8 demonstrated compliance with the security, availability, and confidentiality Trust Services Criteria, thus earning SOC 2 certification.
Enhanced rater8 Scorecards
Available to each and every one of our partners, rater8's Google Business Profile and Online Review Analysis Scorecards give practices an in-depth look at their online reputation.
In 2022, we updated our scorecards to give providers greater insight into their online presence and areas in need of improvement. With these enhanced reports, practices can see their overall total reviews, average rating on every healthcare platform, and more. Practices can also evaluate the strength of their Google Business Profiles to improve their search engine optimization.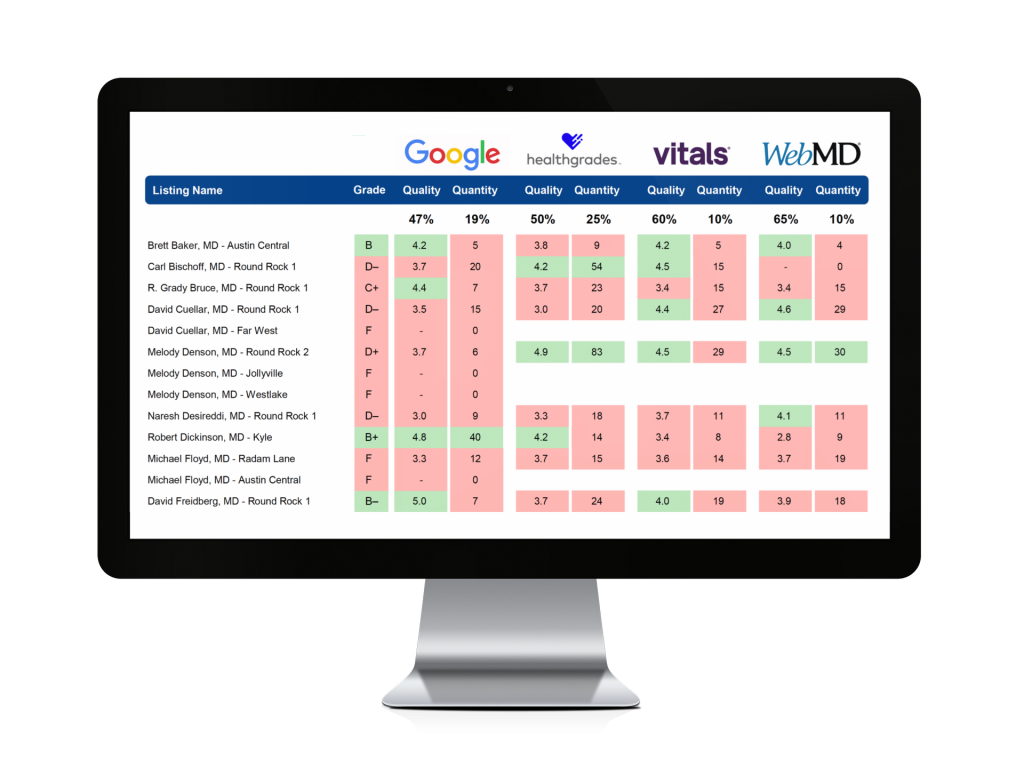 Our newest pricing package, rater8 Free, allows practices to experience our solution's powerful dashboard, scorecards, and reporting tools for free.
Upon signing up, rater8 Free users receive unlimited to access to a slew of features and capabilities, including: 
The rater8 dashboard:

Monitor ratings and reviews from all top healthcare websites, for every physician and practice location.

ZipReplies™:

Respond to Google reviews in seconds with fully customizable, HIPAA-compliant responses.

Advanced reporting:

Generate reports and create data visualizations using patient survey feedback, online reviews, and more.

rater8 Scorecards:

Optimize online reviews and Google Business Profile listings with in-depth analyses and advanced reports.
As part of the patient engagement category, rater8 earned our first ever G2 awards in the spring of 2022!
By the end of the year, however, our first few badges were just a drop in the bucket. The winter quarter saw rater8 garner 21 badges, for a year-end total of 37 G2 awards — including Easiest to Use, Best Support, High Performer, and more.
Along with this year's awards, rater8 ended 2022 with an average rating of 4.9 stars and over 50 reviews on G2. Our solution also earned the top satisfaction rating in G2's Patient Engagement category!
Announced in early 2022, Capterra's annual awards highlighted 2021's top technology companies.
As a member of the reputation management software category, rater8 won awards for Best Value and Best Ease of Use for the second straight year, besting 352 competitors.
In addition to our awards, rater8 closed 2022 with a 5.0 overall star rating and a total of 110 reviews on Capterra.
While we appreciate industry recognition, nothing is more valuable than the feedback from our clients and partners.
In 2022, we sent a net promoter score (NPS) survey to every contact in our database to evaluate the likelihood our clients would recommend rater8 to their colleagues. With all the results now in, rater8 is proud to share our NPS is an eye-popping 94!
How does rater8 compare to top consumer brands? Here's a quick overview:
rater8: 94

Costco Wholesale: 74

USAA: 73

Southwest Airlines: 71

Ritz-Carlton Hotel Company: 68

Apple: 68

The Vanguard Group: 65

H-E-B: 64

Zappos: 58

American Express: 55
American Association of Orthopaedic Executives Peer Review
Along with the accolades we received from our clients and partners, rater8 is proud to receive recognition from our industry peers. We successfully passed the AAOE Peer Review process in 2022!
Consisting of a thorough 11-step, high-level screening process, rater8 was reviewed by expert AAOE Peer Review panel members, as well as our clients and prospects. As part of the evaluation process, rater8 was assessed on the following criteria:
Effectiveness

Quality and usability

Price

Value

Customer and technical support
Beyond the accomplishments and recognition we received from our clients and peers, rater8 became a certified Great Place to Work™ in the summer of 2022.
To earn our certification, every rater8 team member received an anonymous survey, which they used to share feedback on their employee experience. Upon completion, 92% of our team labeled rater8 a "great place to work."
As we continue forward with 2023, our human resources team is dedicated to maintaining our certification by continuing to improve rater8's workplace, upgrading our company-wide perks, and providing our employees opportunities to grow!
The rater8 hive is already buzzing as we gear up for 2023. This year, we resolve to continue helping medical practices and hospitals across the country build the online reputations they deserve.
Thank you to our clients, peers, and partners for your ongoing support, and we look forward to wowing you in the year to come!